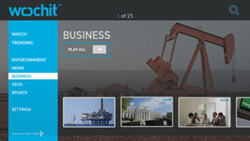 Calkins Digital is a perfect complement to Wochit's creation platform that helps both national and local journalists quickly create custom video.
NEW YORK, NY (PRWEB) December 16, 2015
Wochit, the leading video creation platform powering newsrooms, creators and brands worldwide, today announced a partnership with Calkins Digital to launch the Wochit channel, providing one-of-a-kind news and entertainment to Amazon Fire TV customers.
The Wochit channel allows consumers to stay up-to-date on the most current and popular video stories of the day in a variety of categories including: News, Entertainment, Sports, Business and Technology, in addition to trending topics curated by Wochit content creators and contributors.
"Over-The-Top (OTT) streaming audiences, while still fragmented across devices, now nearly equal U.S. cable households," said Emily Dresslar, Director of Strategic Partnerships at Calkins Digital. "And the need for quality content is essential for the projected growth in this environment. We are excited to team up with Wochit to bring high-quality short form video direct to these audiences."
"Calkins Digital has been a strong leader in creating platforms like OTT to extend journalism's reach with video," said Drew Berkowitz, Senior Vice President of Partnerships, "Calkins Digital is a perfect complement to Wochit's creation platform that helps both national and local journalists quickly create custom video."
The Wochit channel is now available via a free download on Amazon Fire TV with Roku and Apple TV to follow.
About Wochit
Wochit is a video creation platform empowering newsrooms, creators and brands to capture and expand audience attention through the power of video. Founded in 2012, Wochit makes video accessible for anyone to produce and share at scale across all social and digital platforms. With Wochit, videos can be created quickly, using pre-negotiated, rights-cleared assets from AP, Reuters, Getty, Bloomberg and many more sources. Wochit is the winner of both the Gutenberg Prize for its disruptive technology in the field of journalism and Digiday's Best Video Technology Innovation for its positive impact on clients' bottom line. As video consumption and share of overall online audience continues to multiply, organizations of all sizes are under increasing pressure to make video a standard to all owned content practices. Wochit makes this possible in one efficient platform, and does so on behalf of media brands worldwide including Gannett, AOL, The Week, Die Welt, Der Spiegel, ProSieben, YLE Kioski, NRC Media and La Repubblica. The Company is backed by Cedar Fund, Greycroft Partners, Marker LLC and Redpoint Ventures. Wochit is based in New York, with offices in Los Angeles, London and Tel Aviv. Find out more at https://www.wochit.com
About Calkins Digital
Calkins Digital is a technology and strategy provider that works with media companies, organizations and brands to provide end-to-end solutions for streaming video content on Over-The-Top devices and mobile apps. Calkins Digital is a part of Calkins Media Incorporated, owner and operator of newspapers, television stations, and digital and video operations in the Eastern and Southern U.S. Calkins Digital was selected as the the 2015 Innovator of the Year from the Local Media Association for its work in OTT audience solutions. Visit http://www.calkinsdigital.com and http://www.calkins.com for more.