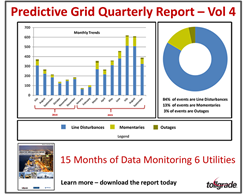 "LightHouse smart grid sensors allow us to increase our situational awareness as events occur in real time on the distribution network.
Reston VA (PRWEB) December 16, 2015
Tollgrade Communications, Inc., the industry leader in redefining the global standard for reliability at the world's largest electric utilities and telecommunications providers, has released its fourth Predictive Grid Quarterly Report (PGQR) on its grid modernization project with DTE Energy. The full report is now available to download here.
The report explains how Tollgrade's waveform analysis enabled a large U.S utility to identify a 'conductor slapping' event on its distribution network and prevented a serious power outage that would have left more than 10,000 customers without electricity.
Conductor slapping is an event that occurs when overhead power lines collide either due to high winds, or when a fault current induces magnetic forces causing conductors to move and slap together. This can result in a cascading series of faults along overhead distribution lines, Undetected, this type of event can significantly diminish power quality, cause flickering lights in customers' homes, and may lead to prolonged power outages.
"This type of event is extremely difficult for utilities and network operators to identify or locate if all three phases of the electric grid are not monitored in real- time. Even though the sensors were installed with a different application in mind, they uncovered an issue no one would have known existed. This is a great added benefit to having sensors deployed on all circuits," said David Maloney, Senior Sales Engineer at Tollgrade Communications.
Erik Christian, VP of Smart Grid at Tollgrade Communications added: "Using the fault data and waveform analysis from LightHouse® sensors, operators were able to proactively reduce stress on their network caused by conductor slap events, improve power quality to their customers and prevent future outages."
DTE Energy improving reliability numbers
Smart grid sensors are helping utility and network operators throughout the U.S improve grid reliability and prevent outages. After considerable investment in reliability improvement projects, DTE Energy recently reported achieving its best overall reliability performance in eight years.
Russel Pogats, Director Electrical Engineering commented: "This year, DTE Energy was able to improve its power reliability figures by 44% which is an amazing achievement. Our efforts to improve reliability will include the continuous deployment of Tollgrade's smart grid sensors on our network."
He added: "LightHouse smart grid sensors allow us to increase our situational awareness as events occur in real time on the distribution network. This information enables DTE Energy personnel to improve customer service by reducing fault response times even further."
Tollgrade and DTE Energy Predictive Grid Quarterly Report V.4
This is the fourth of eight reports to be released under Tollgrade's Clinton Global Initiative (CGI) comprehensive grid modernization project with DTE Energy entitled, "Building a Predictive Grid for the Motor City." Watch the project's progress presented in June 2015 during the CGI "Comeback Cities" closing plenary session. The project aims to predict power outages on the local electricity distribution network before they occur. Tollgrade's Lighthouse Smart Grid Sensors were deployed by DTE Energy in efforts to reduce and prevent the risk of power outages occurring throughout Metro Detroit.
The report includes real-world stories on classifying and detecting 'line disturbance' events and 'momentaries' including:

Failing voltage regulator during winter
Identification of the cause of flickering lights - power quality issues
Preventing a power outage prior to switching operation
Increasing situational awareness with smart grid line sensors
For more information about the Tollgrade LightHouse solution, please contact GetLightHouse(at)tollgrade(dot)com or download the report today.
About Tollgrade
With more than 200 million lines under test, millions of utility outage minutes avoided annually and 25 years of experience successfully locating faults at the world's largest electric utility companies and telecommunication service providers, Tollgrade is redefining the global standard for reliability. Our award-winning fault detection hardware and predictive analytics software are deployed on four continents to help operators avoid network outages and reduce customer downtime. Since 2013, Tollgrade has won more than twelve awards, established itself as the world's market share leader of smart grid sensors and was recognized by President Bill Clinton for a Commitment to Action to build a "Predictive Grid in the Motor City" with DTE Energy in Detroit. To learn more about Tollgrade, visit http://www.tollgrade.com or read more about the benefits of grid modernization on our blog.
Tollgrade Media Contacts:
Anne-Laure Leroyer
Marketing Director
Tollgrade Communications, Inc.
+1 202-701-0083 (mobile)
ALeroyer(at)tollgrade(dot)com
UK
Marcus Edgar
Resonates SLM Ltd
Newbury, Berkshire
t. +44 (0)1635 898 363
m. +44 (0)7810 876 077
e. marcus(at)resonates(dot)com