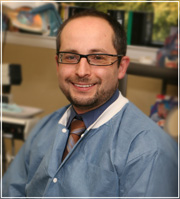 Philadelphia, PA (PRWEB) December 15, 2015
Dr. Eric Friedman, a noted dentist in Philadelphia, PA, with Absolute Smile is pleased to announce that he has completed all seven courses offered at the renowned Dawson Academy. These continuing education courses provide dental professionals the opportunity to hone their skills in various areas, including treatment of TMJ, enabling them to offer their patients a more complete and informed dental experience. The doctor is pleased to now offer these services at his offices in N.E. Philadelphia and Southampton, PA.
As a dentist in Philadelphia, PA, Dr. Friedman is passionate about gaining any additional knowledge to better enhance his practice and his ability to treat his patients. The Dawson Academy courses have assisted him in both endeavors. Topics at the Academy focused largely on reshaping, repositioning, restoring and surgery. One course focuses completely on functional occlusion and includes in-depth information on treating TMJ and attaining optimal function of the masticatory system. Other courses focus significantly on esthetics, as well as advanced problem solving and equilibration. Another course is solely dedicated to ensuring that the office performs in depth examinations, while maintaining meticulous, detailed records on each patient. These courses are combined to provide doctors with the knowledge to more efficiently run their practices, treat patients with a variety of needs, while ensuring that treatment is always at a standard of optimal performance.
Patients with TMJ and other complicated dental concerns are ideal candidates for treatment by a Dawson graduate. The coursework also covers various situations that may commonly arise in most dental practices, allowing patients to be rest assured that their provider is skilled in a wide range of areas, with the ability to handle difficult cases accordingly. Those who would like to learn more about Dr. Friedman, a dentist in Philadelphia, PA, and how he can assist patients with the transformation of their smiles to reclaim their oral heath, can contact the doctor's office to schedule an appointment.
About the Practice
Absolute Smile is a general practice offering personalized dental care for patients in Southampton, PA. Dr. Eric Friedman graduated from the University of Pennsylvania Dental School and practices cosmetic, implant and laser dentistry. He was named "America's Top Dentist" by the Consumer Research Council of America in 2009 and is a Fellow of the American Dental Implant Association. Dr. Boris Friedman graduated with honors from Temple University School of Dentistry and has since furthered his education in endodontics, cosmetic dentistry, orthodontics, periodontal surgery and implant placement technology. Dr. Alla Fishman graduated from the Moscow Dental School as well as New York University's Dental School. To learn more about Absolute Smile and the services they offer, visit their website at http://www.myabsolutesmile.com or call (215) 315-3699.