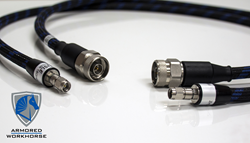 Cerritos, CA (PRWEB) December 21, 2015
Carlisle Interconnect Technologies (CarlisleIT) has announced the launch of the new Armored WorkHorse®, the next generation of armored coaxial assemblies. The new and improved version of CarlisleIT's WorkHorse assembly, the Armored WorkHorse is built to withstand strenuous flexing and numerous mating cycles, making the ruggedized cable ideal for use in high volume production environments.
Armored WorkHorse assemblies are RoHS compliant and designed as suitable replacements for OEM test port cables, due to their long life and repeatable performance. Improved features include: a frequency range of DC to 18 GHz, proven "544" triple shielded and "564" double shielded cables for reduced leakage, standard crush-resistant spiral stainless steel armor, durable construction and connector attachment method, and phase stability with flexure for testing repeatability.
The WorkHorse is available in variety of standard lengths and connector configurations and can be customized based on, connectors, and cable length. For more information on the new Armored WorkHorse assemblies, please click here.
About Carlisle Interconnect Technologies
Carlisle Interconnect Technologies is one of the world's leading designers and manufacturers of high-performance wire and cable, including optical fiber. Since 1940, we have grown our product portfolio to include specialty and filtered connectors, contacts, cable assemblies, complex harnesses, racks, trays and installation kits. In addition to our vast product breadth, we provide our customers a higher level of support by offering engineering and certification services for the commercial aerospace, military and defense electronics, industrial, test & measurement, and medical industries. For more information visit http://www.CarlisleIT.com.