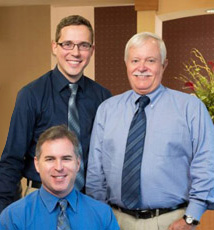 Concord, NH (PRWEB) December 15, 2015
Patients with periodontal disease, basic cavities and other general dental needs are now welcome to undergo treatments with the BIOLASE WaterLase iPlus 2.0™ system, with Dr. Christopher Binder, Dr. Victor Stetsyuk and Dr. Christopher Moriarty. Drs. Binder, Stetsyuk and Moriarty are dentists in Concord, NH, who are pleased to now utilize this system, which is considered gentler than traditional options.
The doctors are proud to be dentists in Concord, NH, who have the qualifications necessary to operate The BIOLASE WaterLase iPlus 2.0™ system. This system differs from standard dental treatment options in its level of speed, comfort and precision. It also facilitates a quicker recovery time than many other traditional treatment processes. The WaterLase iPlus laser is capable of cutting certain treatments times in half when compared to standard drill procedures. This reduces the length of time that patients must spend receiving treatment.
Laser-based treatments are often safer and more comfortable for patients who need basic dental treatments. Dental professionals are also drawn to laser-based treatments because they are highly accurate and can significantly reduce treatment time. Patients who want to schedule an appointment to receive treatments with the BIOLASE WaterLase iPlus 2.0™ system from a dentist in Concord, NH, are welcome to schedule an appointment with Drs. Binder, Stetsyuk or Moriarty at their convenience.
About The Doctor
Generations Dental Care is a general practice offering personalized dental care for patients in Concord, NH. Dr. Christopher Binder and his team provide a wide range of services and are committed to high quality, professional care through the use of laser dentistry and other advanced techniques. To learn more about the services offered at Generations Dental Care please visit their website at http://www.generationsdental.com or call (603) 225-6331 to schedule an appointment.