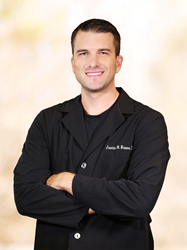 Modern composite resin used today is very strong and requires much less tooth structure to be removed compared to amalgam fillings.
Raleigh, NC (PRWEB) December 21, 2015
Affordability and the amount of work needed are some of the first factors patients consider when visiting the dentist. Oftentimes, they are also the deterrent. At Leesville Dental Care in Raleigh, North Carolina, dentist Justin Russo, DDS, believes those things don't have to be mutually exclusive. In January of 2016, the practice will begin replacing amalgam fillings with natural-looking composite fillings, as part of the practice's commitment to being 100% mercury and metal-free in the new year.
Most people are unaware that silver fillings contain approximately 50% mercury. Dental amalgam is actually a mixture of mercury, silver, tin, copper and zinc. While many proponents of the amalgam fillings claim they are safe, the World Health Organization (WHO) has stated that there is no safe level of mercury. In fact, several European countries have outlawed the use of amalgam fillings due to mercury being a toxin to humans and to our environment.
Mercury is a neurotoxin that, at certain levels, has been shown to cause neurological issues, mental disorders, chronic illnesses, and autoimmune diseases. Studies have shown that amalgam fillings release small amounts of mercury vapor into your body. Exposure can be increased with habits such as gum chewing, teeth grinding and drinking carbonated beverages.
In the past, amalgam was the only material strong enough to endure constant pressure caused by chewing in the posterior or back of the mouth. However, recent advances in dental medicine allow dentists to use composite resin material that is tooth color and virtually unnoticeable. Dr. Russo says he has a lot of patients coming in wanting a smile makeover and request their "silver" fillings removed.
"Amalgam fillings tend to break down overtime and the old filling will pull away from the tooth structure. When there is a 'gap' leakage can occur, which can lead to decay and loss of tooth strength. Modern composite resin used today is very strong and requires much less tooth structure to be removed compared to amalgam fillings. Composite also bonds extremely well to tooth structure. Using composite material for a filling is a no-brainer," Dr. Russo said.
For patients that are looking for a smile makeover in the New Year, contact Leesville Dental Care at (919) 890-5147 or visit LeesvilleDentalCare.com. All new patients receive a free exam and X-rays.
About Leesville Dental Care
Conveniently located in Leesville Towne Centre, Leesville Dental Care's top priority is taking care of patients and their families. They are committed to providing quality, affordable and compassionate care to all of their patients. Justin Russo, DDS, and his expert staff offer everything from routine dental exams to specialized dental care.
Dr. Russo is a member of the Academy of General Dentistry, the American Dental Association and the North Carolina Dental Society.
###
Leesville Dental Care
Justin M. Russo, DDS, PLLC
Address: 13220 Strickland Rd. Suite 166
Raleigh, NC, 27613
Phone: (919) 890-5147