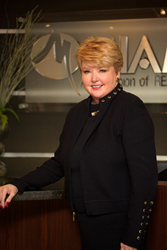 We are thrilled to open the doors to our renovated, state-of-the-art Northwestern Dade office and conference center
(PRWEB) December 15, 2015
The MIAMI Association of REALTORS® (MIAMI) is proud to announce the grand opening of its renovated and expanded Northwestern Dade office. A two-story atrium and an expanded 80-seat conference center along with a new 25-seat computer lab have been added to the Hialeah office, equipping MIAMI members with a fifth state-of-the-art South Florida location for Realtor classes, seminars and meetings.
MIAMI leaders, past presidents of Northwestern Dade and local elected leaders are expected to attend Northwestern Dade's grand opening/ribbon cutting on Thursday, Dec. 17 at 415 West 51st Place, Suite 200, in Hialeah. The Northwestern Dade Association of Realtors merged with the MIAMI Association of REALTORS® in October 2010 to become part of the largest local Realtor Association in the U.S.
"We are thrilled to open the doors to our renovated, state-of-the-art Northwestern Dade office and conference center," said Teresa King Kinney, the chief executive officer for MIAMI. "Adding a new, 25-seat computer lab at Northwestern Dade will give MIAMI members access to a fifth South Florida location to take our popular Realtor education and technology courses. Northwestern Dade's newly expanded, 80-seat conference center will provide a great venue for some of the 3,500 educational seminars we present each year."
MIAMI's other member computer labs: MIAMI headquarters at 700 S. Royal Poinciana Blvd., Suite 400, in Miami Springs (42-seat computer lab); Coral Gables office at 245 Alcazar Avenue (25-seat computer lab), West Broward-Sawgrass office at 13680 Northwest 14th St. in Sunrise (42-seat computer lab) and the East Broward-DCOTA office at 1815 Griffin Road, Suite 104 in Dania Beach (28-seat computer lab).
A sixth computer lab is planned for Jupiter-Tequesta-Hobe Sound Association of Realtors (JTHS) members at the Jupiter office. JTHS, which comprises 1,500 members in Palm Beach and Martin counties, merged with MIAMI on September 22, 2015. MIAMI plans to increase educational opportunities for the new JTHS Council which will be focused on their members' needs and interests.
MIAMI hosts more than 3,500 member educational seminars each year with about 86 percent offered free to members. Conference centers at each location hold between 80 and 150 participants for each of the seminars hosted there. MIAMI also provides more than 100 premium marketing tools and services to each of its 41,000 members, contributing to their success and helping better serve their customers.
Media members looking to attend the Northwestern Dade ribbon cutting and/or conduct interviews should contact Lynda Fernandez at (305) 468-7040 or lynda(at)miamire.com
About the MIAMI Association of REALTORS®
The MIAMI Association of REALTORS® was chartered by the National Association of Realtors in 1920 and is celebrating 95 years of service to Realtors, the buying and selling public, and the communities in South Florida. Comprised of six organizations, the Residential Association, the Realtors Commercial Alliance, the Broward Council, the Jupiter Tequesta Hobe Sound (JTHS) Council, the YPN Council and the award-winning International Council, it represents more than 41,000 real estate professionals in all aspects of real estate sales, marketing, and brokerage. It is the largest local Realtor association in the U.S., and has official partnerships with 136 international organizations worldwide. MIAMI's official website is http://www.miamire.com.
###