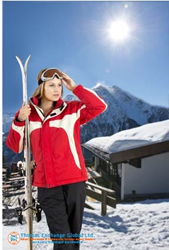 , British tourists made up over 50% of the chalets booked in France and Switzerland over the 2014/15 season—while the rest of Europe collectively represented only 15%
London,UK (PRWEB UK) 21 December 2015
According to UK-based news source The Telegraph, a recent report has found that over half of chalet operators and travel agents have witnessed an increase in luxury ski holiday bookings this season compared to the 2014/15 season. In response, London-based currency specialist Thomas Exchange Global extends its competitive travel money rates to the influx of tourists heading to European ski resorts over the wintery months ahead.
The Travel Edition of The Telegraph stated in a November 19th article that according to recently published Chalet Ski Stats 2015, there has been a rise in luxury ski holiday bookings compared to the same season last year. The article further suggested that the disappointing outturn in 2014/15 was an exception, and that the Alps have already been experiencing snowstorms this winter—giving hope of a snow-filled holiday and the remaining ski season thereafter.
In response to the increase in tourists this season, travel money expert Thomas Exchange Global announced it will be offering especially competitive exchange rates for British holiday makers heading for the European slopes.
"We offer the very best rates for the Euro as well as the Chez Crone and Swiss Franc—amongst the many other European currencies this season," stated Trevor Samuel, Senior Manager at Thomas Exchange Global.
According to The Telegraph Travel report, British tourists made up over 50% of the chalets booked in France and Switzerland over the 2014/15 season—while the rest of Europe collectively represented only 15% and 14% of the bookings made in those two countries, respectively. The report also stated that while the tour packages are all booked in advance, tourists still spend a considerable amount of travel money during the trip on extras such as ski guides, spa services, and ski lessons.
"It can be difficult to locate ATMs near remote holiday resorts—and furthermore, the exchange rates offered at the hotels and resorts are not the best," commented Trevor. "We advise ski tourists to purchasing enough travel money prior to arriving at the resort in order to buy extras during their stay without spending more money than necessary."
About Thomas Exchange Global:
As dedicated foreign exchange specialists, Thomas Exchange Global has the professional expertise, in depth market knowledge, technological infrastructure and commitment to provide an unprecedented level of service that sets the standard in the foreign exchange industry. They are specialists in all areas of foreign exchange. They provide commission free currency as well as travellers cheques.
Thomas Exchange Global also offers International Money Transfer Service where funds can be remitted to overseas bank accounts within one to two days. With commission free service for transfers over £10,000 backed by competitive exchange rates, customers are assured of a better deal and a substantial saving compared to banks and money brokers. Thomas Exchange Global branches are located at Strand, Embankment, Victoria Place (Victoria Rail Station) Victoria Street, Liverpool Street, High Street Kensington, Hammersmith, Canary Wharf, Cannon Street, Wormwood Street and Richmond.