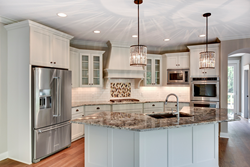 North Olmsted, Ohio (PRWEB) December 17, 2015
As the #1 faucet brand in North America, Moen is dedicated to the philosophy of developing products that make a difference in people's lives. This thoughtful design process involves ample time listening and watching to gain the insights needed to provide meaningful value to consumers. To take this principle of thoughtful design one step further, this year, Moen honored trade professionals who incorporate these same philosophies into their kitchen and bath designs. Moen is pleased to announce Kirsten Erickson, designer at Gonyea Homes in Minneapolis, Minn., as its first-ever "Thoughtful Designer of the Year" and recipient of $20,000 toward her next project.
"The concept of thoughtful design is rooted in Moen's history and heritage – invoked by the genius of Al Moen whose product innovations were based on his deep understanding of people's wants and needs," said Tim McDonough, vice president, global brand marketing, Moen. "Just as we make sure that we're developing products with meaningful innovation, benefits, performance and installation features, trade professionals are echoing the concept when creating spaces to offer their clients an experience that's purposefully crafted."
Erickson's winning kitchen project was part of a custom home designed in early 2015. "My client's personalities and lifestyle were the inspirations behind this remodel, both in terms of the layout and the chosen colors and finishes," Erickson said. "From the beginning, we put significant thought into how they would actually use the kitchen, making sure it was open to the rest of the home for entertaining purposes, yet still maintained a sense of coziness for family time."
The kitchen was also designed to create an efficient workflow. Erickson and her clients selected the Moen® Arbor® pulldown kitchen faucet in Chrome, as it features the form and function they were looking for in a fixture. Featuring a multi-function pulldown design for at-your-fingertips water delivery, Arbor provides a clean and sleek look that works with the other elements within the space.
"We opted for Chrome because we wanted to layer different finishes in the kitchen, and we loved how the shine of the faucet tied into the sparkling light fixtures above," said Erickson. "Our goal was to create a kitchen that felt classic and elegant, but with little pops of fun interjected in the mix."
Erickson's entry was judged on the overall aesthetic of the room's look; how thoughtfully she integrated Moen products and the most innovative use of the product within the design. To be considered for the award, trade professionals, including architects, interior designers, builders and remodelers were encouraged to submit their projects via moen.com or on social media using #MoenDesignContest.
For more information about the Moen Thoughtful Design Awards, visit moen.com or call 1-800-BUY-MOEN.
###
About Moen
As the #1 faucet brand in North America, Moen offers a diverse selection of thoughtfully designed kitchen and bath faucets, showerheads, accessories, bath safety products and kitchen sinks for residential applications – each delivering the best possible combination of meaningful innovation, useful features, on-trend styling and lasting value. In addition, Moen® Commercial offers superior-performing products that deliver lower lifetime costs for today's facilities.
Moen is part of Fortune Brands Home & Security, Inc. (NYSE: FBHS), which creates products and services that help fulfill the dreams of homeowners and help people feel more secure. The Company's trusted brands include Moen® faucets, Master Lock® and Sentry® Safe security products, MasterBrand Cabinets® and Therma-Tru® entry door systems. Fortune Brands holds market leadership positions in all of its segments. Fortune Brands is part of the S&P MidCap 400 Index. For more information, please visit http://www.FBHS.com.
Contact:
Jennifer Allanson or Kristi Stolarski
Falls Communications
(216) 696-0229
jallanson(at)fallscommunications(dot)com
kstolarski(at)fallscommunications(dot)com