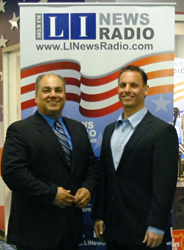 "Never once in eight years was I able to tell my side of the story to a police officer, a district attorney, or a judge before my livelihood and freedom were taken from me."
Staten Island, NY (PRWEB) December 22, 2015
Boulevard Books is proud to announce the publication of STANDING ON PRINCIPAL BY Frank Vetro. Frank Vetro is an Italian American residing in eastern Long Island. His family came to the United States so their children could have the opportunity they never had. In living out his family's American dream he pursued a career in education. He began as a biology and chemistry teacher before quickly advancing to middle and high school principal in Hampton Bays, NY.
On February 8th, 2006, the Long Island principal entered the halls of Hampton Bay High School as the revered, respected, and beloved principal he had been regarded as by students, parents, and colleagues. Upon leaving that day, he was arrested. Vetro quickly went from an educator known for his unbridled passion for his profession to an individual who lost his career, couldn't find employment for years, and was forced from his home and into his car.
Forced to act as his own attorney from the backseat of his car he uncovered the disturbing truth and fought his way back. This is his story.
In his memoir "Standing on Principal", Vetro provides a first-hand account of an innocent man in the justice system. Fluctuating between a narrative and detailed court cases, Vetro provides insight into the workings of the N.Y. judicial and educational systems. He shares his tragic yet inspirational story in hopes of helping others, spurring change, preventing future injustices.
Frank's memoir, STANDING ON PRINCIPAL, provides insight into the N.Y. judicial and educational systems as it fluctuates between a narrative and detailed court records in People v. Frank J. Vetro, 1st District Court, Central Islip NY Docket numbers 2006SU007542-7548.
"Never once in eight years was I able to tell my side of the story to a police officer, a district attorney, or a judge before my livelihood and freedom were taken from me."
Vetro has recreated his life after being hired by a priest. He works with the courts and school districts on long Island, educating students who have been arrested, kicked out of school, are enduring trying times, and in need of a second chance. "I'm hoping to make at least a small change by ensuring that the youth that make mistakes do not have to bear them for their entire lives."
Standing on Principal has already garnered national attention and lead to the radio show with the same name. Standing on Principal is broadcast live on 103.9 FM LI News Radio, and also on WLINY.com. It's a blend of law, politics, and commentary on local and national news, with appearances by politicians and high profile guests. Frank is also a mentor, life coach, public speaker, legal advocate, and real–estate salesperson.
Boulevard Books is an educational publishing company founded in 2010 by educator and author Avi Gvili.