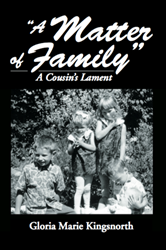 Our lives have been inextricably linked by a web of deception. My novel is an attempt to liberate truth from a dark and painful past
VANCOUVER, British Columbia (PRWEB) December 16, 2015
There are turning points in everyone's life that goes in either a positive or negative direction. Whether by wealth or poverty, there are circumstances that can make or break a family. In Gloria Marie Kingsnorth's case, it was an ongoing series of traumatic events that she found the strength to overcome.
In Kingsnorth's book "A Matter of Family," she speaks of hidden truths, conspiracies, and betrayal by her cousin; an illegitimate child who later emerged as a wealthy tycoon who used his influence and power to rewrite his past.
"Our lives have been inextricably linked by a web of deception. My novel is an attempt to liberate truth from a dark and painful past," Kingsnorth said.
"A Matter of Family" is a story that attempts to bring long hidden secrets out of the shadows and into the light. Readers will become quickly immersed as they uncover the many issues stemming from secrecy, deception, and betrayal. This mind-rattling and complex story is of one woman's survival and resilience in overcoming past traumas.
"A Matter of Family"
By: Gloria Marie Kingsnorth
ISBN: 978-1-4771-5448-9
Available in softcover, hardcover, e-book
Available on Amazon, Barnes & Noble and Xlibris
About the author
Gloria Marie Kingsnorth is an emerging author in Canada who recently wrote a book that hones in on family betrayal and drama. Kingsnorth hopes that her book will have meaning for those who have had similar experiences.
# # #
For review copies or interview requests, contact:
Katie Wenclewicz
317.602.7137
kwenclewicz(at)bohlsengroup(dot)com