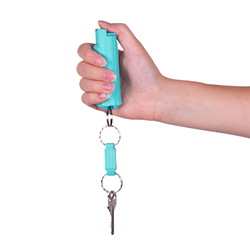 (PRWEB) December 16, 2015
Holiday gifts are an opportunity for consumers to show their loved ones just how much they care - which makes a personal safety tool the perfect present. When looking to give the gift of safety this season, shoppers should choose SABRE, the world's leading pepper spray brand and a company with 40 years' experience in the security industry. SABRE's charity partnerships also help consumers choose gifts that give back to the wider community. Among other holiday gifts, SABRE offers:
1. Pepper Spray
SABRE pepper sprays are compact and stylish, but don't let the good looks fool you. These pepper sprays pack the same maximum heat and 4-year shelf life trusted by the New York PD, Chicago PD, U.S. Federal Bureau of Prisons and many more. The teal keychain pepper spray pictured here contains 25 bursts, and a portion of the proceeds help provide women in developing nations with their very own canisters of SABRE Red.
2. Personal alarms great for everyone - including children - on the shopping list this holiday season. SABRE's Personal alarm with Key Ring sounds a 110 dB alarm when its user needs to attract witnesses, and the extremely loud noise can even help scare off an attacker. Customers can choose the red alarm to support RAINN (the Rape, Abuse & Incest National Network), or pink to support National Breast Cancer Foundation.
3. Home Security Products (Starting at $9.99)
You don't have to be a homeowner to appreciate SABRE's diverse line of home security products. In fact, products like the Dorm / Apartment Kit can go with you from home to home - and even make great travel accessories. From the Wireless Alarm Kit to the Car Parking Sensor, SABRE's standalone alarms are the perfect way to enhance any home's security.
4. Home Security System
SABRE's Wireless Home Security System provides comprehensive security for homes.
5. Free Safety Advice
Holiday gift-givers can refer their recipients to the SABRE blog for free continuing safety advice. The blog regularly announces giveaways and freebies, like this downloadable holiday safety card.
From the industry's best pepper spray to some of the loudest alarms on the market, SABRE's diverse product line offers the perfect way for holiday shoppers to show they care. Plus, present-seekers receive 10% off their http://www.sabrered.com SABRE product purchase when they use the coupon code HOLIDAYS15.
ABOUT SABRE
SABRE, the no. 1 pepper spray trusted by police and consumers worldwide, is family owned and operated with four decades of experience and is the leading brand in personal safety. The company's law enforcement grade pepper sprays provide consumers with the same superior quality chosen exclusively by the New York Police Department, Los Angeles County Sheriff's Department and law enforcement agencies worldwide. SABRE has trained 3,500 officers around the globe on the use of force and how to use pepper spray. SABRE also has a line of consumer personal alarms and home security systems, and is dedicated to educating its customers. SABRE's Personal Safety Academy is available through certified instructors around the world to help teach personal safety skills to SABRE users. Learn more at http://www.sabrered.com, on Facebook at 'SABRE-Security Equipment Corporation', on Twitter @SabreRed or on Instagram @SabreSafety.