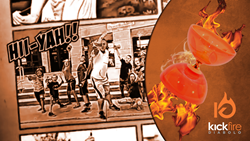 Our KickFire eCommerce Store is on fire! The success and demand from parents and children alike, are ultra rewarding!
Kaysville, Utah (PRWEB) December 15, 2015
Janelle Page Misbach, CEO of KickFire Classics, proudly released a new infomercial highlighting KickFire Diabolos' full line of Chinese yoyos. The Utah based classic toy manufacturing company launched their line of Chinese diabolos this summer, which includes the KickFire Comet (fixed axle, beginner, Chinese yoyo), the KickFire Nova (fixed axle, professional, Chinese yoyo), and the KickFire SuperNova (triple bearing, professional Chinese yoyo).
The video infomercial features Ty the Diabolo Guy and his crew of diabolo wielding sidekicks. Determined to change the way children play, the KickFire Crew can be seen zapping video game controllers and other handheld, portable, electronic devices from childrens' hands, as they "kick" mind-numbing video games to the curb, and replace them with the "wow" and "kapows" of the KickFire Diabolos. According to Cory Keate, CMO KickFire Classics, "the video's purpose is twofold: 1) entertain and inspire children to get outside and play; 2) entertain and inspire parents to open up their pocketbooks and purchase a KickFire Diabolo--or two, so their children can get outside and enjoy some good ole fashioned fun!"
When asked about the new video, and KickFire's line of classic toys, Janelle responded, "I love seeing my children play outside and enjoy active toys. I'm not a fan of video games nor children sitting around with so much screen time. For that very reason, my partners and I started KickFire Classics. We wanted to remind the world that "fun" is more than pixels, apps, and WiFi--that fun is limited only by your imagination, not by the number of gigabytes on your electronic device."
The KickFire Classics story has struck a chord in the world of eCommerce as online sales of KickFire Diabolos have skyrocketed. When asked about the company's eCommerce success, KickFire Classics COO, Tyler Seamons responded, "We cannot keep enough inventory on hand. Our KickFire Amazon Store is on fire! The success and demand from parents, and children alike, are ultra rewarding."
The new KickFire Diabolos infomercial, which is being hailed as "as fun as the chinese yoyo" can be viewed on YouTube by clicking here
About KickFire Classics:
KickFire Classics is a toy manufacturing company in Kaysville, Utah dedicated to producing high quality classic toys that are both challenging and exciting enough to lure children away from their digital devices for some good ole fashioned fun. To see the full line of KickFire Classics toys, visit KickFireClassics.com.
Contact Info
Name: Janelle Page Misbach
Organization: KickFire Classics
Website: http://kickfireclassics.com
Email: crew(at)kickfireclassics.com
Phone: 801-800-8608
Country: United States