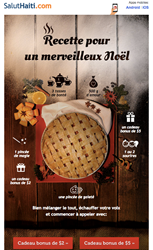 "I would encourage everyone to use SalutHaiti for all their calling needs to Haiti. The reception is superb and reliable. The website is easy to use and customer service is excellent. (Marie Joseph on Trustpilot.com)
Atlanta, Georgia (PRWEB) December 17, 2015
All Haitians worldwide receive up to 25 free calling minutes to Haiti as an early Christmas gift from SalutHaiti.com with one of the coupon codes: XMAS2PIE or XMAS5PIE. Each coupon brings $2, respectively $5 calling credit as a Bonus, and applies on Voice Credit orders of $20 minimum, respectively $40, placed until December 19th (23:59 EST), 2015 on SalutHaiti.com: http://saluthaiti.com/buy/voice
To get $2 Bonus one needs to hold a free account on SalutHaiti.com, get $20 Voice Credit and enter the coupon XMAS2PIE in the checkout session. The Bonus brings 10 gift minutes for calls to landlines in Haiti or 8 extra minutes to mobiles in Haiti besides the main balance: 80 - 100 calling minutes. Of course, the Voice Credit in one's account on SalutHaiti.com can be used for any call: to landlines or/and mobiles in Haiti.
Coupon XMAS5PIE brings $5 to someone who buys a minimum of $40 Voice Credit on SalutHaiti.com. To get the $5 Bonus for international calls to Haiti one needs to use the coupon code XMAS5PIE in the checkout of his or her Voice Credit purchase. Otherwise, the Bonus cannot be received.
The calling Bonus of $5 can be used for international calls to both landlines and mobiles in Haiti. The Bonus applies on a Voice Credit order of minimum $40 placed before December 19th, 2015. The Bonus as well as the main balance can be used to make calls at 19.9¢/minute to landlines and 24.9¢/minute to mobiles in Haiti. Just to get an idea, the initial or main balance of $40 already brings 200 calling minutes to landlines or 160 minutes for calls to mobiles in Haiti.
The rate to call Haiti landlines is 19.9¢/minute and to call mobiles there it is 24.9¢/minute. The Voice Credit balance, including the Bonus received, never expires. So one should use the Voice Credit whenever necessary, without getting worried whether the credit expired or not. Anyone can find more information about the rates on the Rate page on SalutHait.com: http://saluthaiti.com/rates
SalutHaiti.com is a self-service, that allows anyone to purchase Voice Credit for international calls to Haiti or any other destination in the world online, in less than 1 minute. Thousands of Haitians use it for several reasons that make it stand out from others:
-Rates are the lowest on the global market
-The service is 100% secure; they are "Certified & Verified" as the label on the website says.
-Customer Service is available 24/7 for friendly support; everyone gets an answer, nobody is left out.
-Payment is flexible; Paypal is accepted besides all major cards, all currencies are accepted.
-Invoices and records are available in the online account.
There are 3 ways to make calls to Haiti using SalutHaiti.com service and balance:
-Access Numbers help one make calls without Internet use.
-KeepCalling app is useful for smartphone users with 3G and 4G Internet access. The app costs nothing to install on iOS and Android devices; the app is quick and easy and uses one's phone Contacts to place a call to Haiti.
-Web Call is a desktop app available in one's account that requires no download. It is useful to make calls from a PC to any phone in Haiti using the Internet (whether an old generation mobile, a smartphone or a landline).
The loyalty program works well on SalutHaiti.com. For every regular purchase one gets a certain number of Thank You points that can later be converted into free calls to Haiti. The points are visible in one's account and can be converted into Voice Credit once they amount to 1000.
Besides the Voice Credit calling and SMS service for personal use, SalutHaiti.com offers Mobile Recharge. This is a service that facilitates international top ups to Haiti from any part of the world. It takes less than 1 minute to top up a Natcom, Voila, or Digicel mobile in Haiti.
This is not an exceptional promotion on SalutHaiti.com. Regular offers are advertised on the Facebook page of the Haitian community: https://www.facebook.com/SalutHaiti/?fref=ts
SalutHaiti.com wishes all Haitians celebrating Christmas, all the best: a happy holiday, courage and enthusiasm, good thoughts and good intentions, and nice people around!
About SalutHaiti.com
SalutHaiti.com is an interactive website designed by KeepCalling, a global telecommunications company registered in 2002 in USA. Presently, KeepCalling provides its services to hundreds of thousands of consumers and businesses, with a focus on customer satisfaction. KeepCalling has been listed by Inc 5000 as one of the fastest growing companies in the USA for 5 consecutive years. In 2015 the company registered a revenue increase of over 200% from 2011 to 2014.