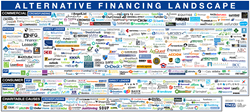 (PRWEB) December 17, 2015
Over 700 providers of alternative financing and crowdfunding for businesses, consumers and charitable causes have been compiled into a searchable database by The Kaplan Group. Anyone seeking funding can create a custom list of potential sources based on the use, amount needed, and type of financing desired. This free resource is the largest list of alternative financing and crowdfunding sources anywhere and the only one searchable based on financing criteria.
The amount of alternative financing completed is more than doubling each year. From only $2 billion in 2012, the $34 billion projected for 2015 is more than venture capitalists are expected to invest this year. This market is expected to reach $300 billion by 2019 and the total addressable market exceeds $3 trillion.
This evolving market now caters to both businesses and consumers with excellent, mediocre or terrible credit. The search tool includes:

260 providers of business loans;
99 providers of consumer loans;
153 platforms for raising equity;
274 platforms for raising donations for charitable causes;
Eight different debt type products for businesses from four types of financing sources were identified. The interest rate or implied cost of funds ranges from as low as 5% to over 100% on some merchant cash advances. The tool makes it easy for a borrower to find multiple potential sources for the specific type of financing to then compare costs and other terms. Many providers have a 10 minute application process and an approval process that takes only two hours to two days.
The Kaplan Group, a commercial collection agency specializing in large claims, began receiving claims from alternative finance providers in 2013. "We quickly learned that there were new resources available for companies and individuals who needed financing. As we solved problems for our clients, we also saw the opportunity to connect other businesses with past due invoices to tap financial markets and get current on delinquent payables" says Dean Kaplan, President. "But, there was no easy way for people to find the best source with the lowest cost, which led us to creating this resource."
The database includes crowdfunding, peer to peer lending, direct lenders and brokers from over 50 countries offering financing and donation raising services to a worldwide audience. To help people understand the various types of alternative financing, we have provided explanations, warnings and an implied interest rate calculator in our free report Alternative Financing Landscape.
About The Kaplan Group:
The Kaplan Group, Inc. is a commercial collection agency founded in 1991. Known in the industry as "The Large Claim Experts", the company provides B2B debt collection services on a contingency basis throughout the USA for domestic and international clients. Dean Kaplan has completed over $500 million in transactions during his career and personally handles all large claims. For more information, please visit http://www.kaplancollectionagency.com, email info@kaplancollectionagency.com or call 805-541-2639.