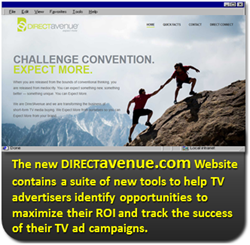 We want companies to 'Expect More' from their advertising investment and to trust the medium that was in existence 50 years before the internet was born - Television
Los Angeles, CA (PRWEB) December 17, 2015
"With so many new and emerging options available, digital advertising has become a confusing space for companies. We plan to clear up the confusion," said Scott Kowalchek, founder and CEO of DirectAvenue, a DRTV ad buyer, regarding his company's new brand and new Website.
The company's Website, DirectAvenue.com, was relaunched with the new DirectAvenue slogan "Expect More" branded on the home page. Why "Expect More"? As Kowalchek explains, digital advertising has become a free-for-all industry in which self-pronounced marketing and advertising gurus promote their ad system or platform as a "sure thing", deluding companies into spending millions with relatively small ROI. "We want companies to "expect more" from their advertising investment and to trust the medium that was in existence 50 years before the internet was born - Television," said Kowalchek. "Many internet ad execs like to tell us that online advertising will replace TV advertising. I guarantee this is not going to happen!"
In fact, the latest advertising studies indicate online video is a complement to TV versus a replacement when it comes to advertising and branding efforts. Kowalchek's new Website is geared toward providing visitors with an education about different ad spending strategies in addition to promoting DirectAvenue's own services. In fact, with education as a goal, Kowalchek plans to add a video FAQ to the Website; the interactive video gallery will contain dozens of streaming video answers to the most popular questions about direct response TV advertising.
DirectAvenue's management team collectively has more than 150 years of accountable advertising experience, successfully leading hundreds of campaigns for some of the world's top brands and handling more than $600 million in direct TV billings since the company was founded. This breadth of experience gives DirectAvenue the strategic and tactical know-how needed to improve awareness (brand) and drive sales. For every client, DirectAvenue drives significant market share and delivers value by combining expert TV media buying creative services with measurable metrics of success (data science).
New Tools to Ensure DRTV Success:
TIP – Our A Top-Down Investment Process (TIP) yields greater insights into the behaviors of their clients' media targets, ensuring the right media properties are selected.
POP – A DirectAvenue Pre-Optimization Process (POP) ensures media clearance and spending goals are met.
PAR – A Predictive Analytics Review (PAR) provides call centers and fulfillment partners with hourly call volume estimates on a daily basis.
PIT – A Partner Integration Team (PIT) establishes open lines of communication between all marketing partners and assists clients in finding the right back-end resources.
HDR – Access to High-Definition Reporting (HDR) ensures all parties get the insights needed to improve results.
DirectAvenue managers want new and current clients to keep in mind that while the company's website and TIP, POP, PAR, PIT, and HDR tools are new, there is one age-old acronym that means more to the company than ever – ROI. In closing, Kowalchek said, "With our new accountability tracking tools, we promise clients that they can expect more ROI in TV advertising than any other platform and they can expect more from DirectAvenue than any other media buyer."