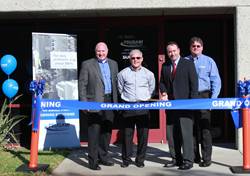 We're here to support you.
Windsor, CT (PRWEB) December 16, 2015
Tsugami/Rem Sales, the exclusive North American importer of Precision Tsugami CNC machine tools, held a grand opening and ribbon cutting ceremony at its new Tsugami Technical Center in Fullerton, California December 9th and 10th.
Representatives from 35 local businesses attended the "invitation only" event, which featured live cutting demonstrations on several Tsugami machines, including the B0326-II Opposed Gang Tool Lathe, SS20M-5AX Multifunction Machine and the S206-II LaserSwiss, which combines Swiss-style 6-axis CNC machining with an integrated laser cutting system.
"We're here to support you," Tsugami/Rem Sales Vice President Michael Mugno said as he addressed the crowd of Tsugami customers during the ribbon cutting ceremony. "Without our customers, we're nothing. We know that. We appreciate you."
The new Technical Center, Mugno explained, was established to provide regional Tsugami service, support and customer training, as well as space for engineering services, such as preparing machines for turnkey delivery and producing run-off parts for customers.
The facility will also benefit Tsugami/Rem Sales' distribution partner, Ellison Technologies, Mugno noted. "It supplements Ellison's Santa Fe Springs and Freemont facilities," he said. "We can house more machines to allow local customers to see several demos in one visit. It's a win-win for everyone involved."
The Fullerton Technical Center is located at 1521 E. Orangethorpe Ave., Suite E. Manufacturers may schedule a visit online at http://www.remsales.com
About Rem Sales
Rem Sales (http://www.remsales.com) has been the exclusive North American importer of Precision Tsugami machine tools since 1978. A division of Morris Group, Inc. of Windsor, Connecticut, Rem Sales sells new Tsugami machine tools via national distribution channels and direct sales agents. The company also provides application engineering, service and customer training.
About Morris Group, Inc.
Morris Group, Inc. (http://www.morrisgroupinc.com), whose history dates to 1941, is one of the largest machine tool distribution networks in North America. Based in Windsor, Connecticut, the family-owned and operated company has 14 business units in the United States.