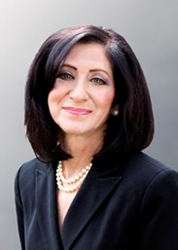 Cherry Hill, N.J. (PRWEB) December 16, 2015
Anita Grossman, president and founder of Grossman Financial Planning Group and registered representative of Lincoln Financial Advisors, recently attended the annual Barron's Top Women Advisors Summit, an exclusive conference aimed at sharing best practices, generating new ideas across the industry, and advocating the value of advice to the investing public. Held on December 2 – December 4 in Palm Beach, Fla., the conference was attended by Barron's "Top 100 Women Financial Advisors" and a select group of 400 additional female advisors representing the top level of performers within participating firms.
Attendees participated in peer-led sessions sharing wealth management strategies and heard from recognized keynote speakers from both inside and outside the industry.
"It came as no surprise to us that Anita would be invited to this meeting," said Jack McCaughan, managing director of Lincoln Financial Advisors' Northeast Regional Planning Group. "She works tirelessly to deliver advice and experience for all those she serves. As a veteran in the industry, she inspires not only her clients, but each of us as her colleagues to address the financial needs of our clients in a holistic sense that will last them a lifetime, while serving their families for generations to come. We congratulate Anita on this notable accomplishment."
"Financial advisors who attend this conference are passionate about delivering advice that can help their clients towards achieving their financial goals," said Grossman. "In a challenging economic environment, the in-depth analysis and well thought-out strategies discussed by some of the industry's top professionals made this conference extremely valuable."
Grossman has been in the financial services industry for 20 years, providing comprehensive retirement, estate, investment, and business succession planning to individuals, families, executives, and business owners. She has been listed as a Five Star Wealth Manager in Philadelphia Magazine for 7 consecutive years and NJ Monthly for the last 5 years. Grossman is a 2014 and 2015 recipient of the Women's Choice Award, a premier recognition award for advisors who provide quality service to their female clients. In addition, she is a past recipient of the Lincoln Financial Advisors' Legacy Award from her regional office.
Grossman earned a bachelor of science degree from Drexel University, receiving high honors. She holds FINRA series 6, 7, 63, and 65 registrations, as well as life and health licenses.
Grossman Financial Planning Group is located at 1800 Chapel Avenue West in Cherry Hill, N.J.