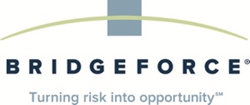 Chadds Ford, PA (PRWEB) December 17, 2015
Bridgeforce, a multi-national consulting firm focusing on consumer and small business lending and payments, is pleased to announce the appointment of Andrew Domino to Chief Operating Officer.
"Andrew's integrity, dedication, business acumen and leadership skills position him to drive our strategic operating framework to build long-term value for Bridgeforce, and in turn, our clients," stated Matt Scarborough, Chief Executive Officer. "He will lead our teams in the identification of new solutions, efficiencies, and organizational performance consistent with Bridgeforce's foundational values as we continue to expand around the globe."
With over 20 years of experience in the financial services industry, and a history of improving organizations both operationally and strategically, Andrew has most recently served as Managing Director of Bridgeforce Ltd. In this role, he led significant expansion in the UK, Eurozone, and Latin America. As COO, Andrew will be leading global strategic operations for the entire company while still being involved in our international project work. He'll provide innovative direction and efficiency oversight to Bridgeforce, managing teams in finance, human resources, recruiting, and client sourcing.
When discussing his new role, Andrew shared, "It's an exciting time to be leading operations at Bridgeforce. Over the last six years I've had the good fortune of working with our strong team of experts in the financial industry to help solve clients' challenges and provide sustainable results. I now look forward to helping to propel Bridgeforce into the next era of its success from an operational perspective while still remaining engaged with our clients."
Before Bridgeforce, Andrew served as the Chief Operations Officer for MXT Card Services, a start-up credit card and portfolio management company. Prior to that role, he was Operations Risk Director for Bank of America in China and served as the Chief Operating Officer for the credit card joint venture between Bank of America and IXE Banco in Mexico City.
For additional information, please see Andrew Domino's biography brief.
About Bridgeforce
Bridgeforce is a specialized multi-national consulting firm serving a variety of clients involved in almost all aspects of the consumer and small business lending and payments space. Over 75 percent of Bridgeforce consultants come directly from client-side leadership positions across multiple parts of the credit lifecycle. Combined with subject matter expertise in operations, technology, strategy and regulatory issues, Bridgeforce has the knowledge and experience to make the hard choices in developing and implementing best-fit solutions that are both achievable and lower the risks of execution to ensure sustainability. Bridgeforce success can be attributed to a culture fostering innovation and evolving experienced-based best practices recognized within the industry. For more information, visit http://www.bridgeforce.com.