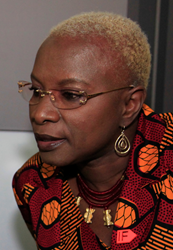 I am so pleased that Ms. Kidjo has lent her very powerful voice to help prevent the next outbreak of Ebola.
Ottawa/Geneva (PRWEB) December 16, 2015
Grammy Award-winning singer/songwriter and UNICEF Goodwill Ambassador Angelique Kidjo has recorded the vocals to In Praise of Prevention, the second in a series of three short videos by Chocolate Moose Media (CMM) aimed at preventing the further spread of the Ebola disease. The music was composed by Andrew Huggett of GAPC in Ottawa, Canada.
It is part of 23 new animated public service announcements recently made available online by CMM as part of its efforts to boost international health and social justice. Covering subjects from violence against children to diabetes, the new PSAs bring to 3,370 the number of videos CMM founder Firdaus Kharas has made available for free on his Vimeo channel.
In Praise of Prevention, created in co-operation with United Methodist Communications(UMCOM) and UNICEF Togo, carries on after the death from the disease of the teenaged boy in the first video - Ebola: A Poem For The Living. His sister has been asked to speak at a local church about her experience, and Kidjo's sublime voice builds anticipation as the young girl imagines what she will say. The soundscape reaches its crescendo in a crowded church. The third video – Beyond Survival, created with sponsorship from Catholic Relief Services - looks at the stigma associated with Ebola survivors and how to bring them back into mainstream society.
Other new additions are:

a spectacular whiteboard animation for UNICEF Malawi aimed at combatting violence against children. The video was debuted at the opening of Malawi's parliament.
a 12-short 3D animated series for the Qatar Diabetes Association that focuses on a small group of elementary school children in the Persian Gulf who are affected by Type 1 diabetes. Diabetes is now a major health threat worldwide with 4.5 million people dying of the disease in 2015 and 600 million predicted to contract it by 2035.
a six-video series for UMCOM exploring universal values for children. Called Biggie and Smallie, the 3D animated series aims to inspire growing children to act consciously by learning how their actions and choices affect others.
Firdaus Kharas, CMM founder and Peabody Award-winning director of In Praise of Prevention said: "I am so pleased that Ms. Kidjo has lent her very powerful voice to help prevent the next outbreak of Ebola. I profusely thank her and UNICEF for their strong support on behalf of those that will hear her message of hope."
He is now at work on a new global series for UNICEF on the eradication of polio and environmental-themed work for the International Union for Conservation of Nature (IUCN).
About Chocolate Moose Media
Chocolate Moose Media is the world's leading producer of animated behaviour-change communications aimed at solving health and social issues around the world. It produces film and animated television with offices in Geneva, Switzerland, and Ottawa, Canada. President Firdaus Kharas uses proceeds from for-profit projects to fund not-for-profit campaigns. These are in the form of animated public service announcements and include Peabody-award winner The Three Amigos (combatting HIV/AIDS); Buzz and Bite (preventing the spread of malaria); No Excuses (targeting sexual and domestic violence); and The Solar Campaign (replacing kerosene lamps with solar lights).