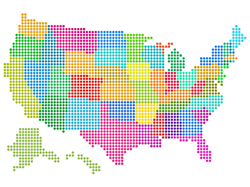 There is a general lack of financial understanding in our country that is certainly contributing to the current credit crisis.
North Salt Lake, Utah (PRWEB) December 16, 2015
Lexington Law Firm's Consumer Education Specialist, Randy Padawer, responded to the recently released S&P Global FinLit Survey, one of the most extensive measurements of global financial literacy to date. The survey ranked the United States 14th globally, behind numerous Scandinavian countries, Germany, Australia, United Kingdom, Canada and Israel, further emphasizing that the precipitously indebted country has much educational work to be done.
The survey findings resulted from interviews with over 150,000 adults across 144 countries, tested on four basic financial concepts: numeracy, interest compounding, inflation, and risk diversification. While the United States does rank better than most of the world in terms of basic financial literacy, the ratio of credit card and student loan debt to basic understanding of interest is grossly lopsided. In fact, only 52% of Americans surveyed answered the interest question correctly, despite carrying some of the highest personal debt in the world.
"Most consumers are unaware of the credit damage that may result from overwhelming debt," said Dr. Randy Padawer, on behalf of Lexington Law, a consumer advocacy law firm and trusted leader in credit report repair. "There is a general lack of financial understanding in our country that is certainly contributing to the current credit crisis."
Padawer recommends that consumers at least familiarize themselves with the most basic financial terms and concepts, including: saving, borrowing, investing, spending and protecting. Take into consideration the following fiscal fundamentals:

Create a better budget. Avoid financial carelessness by tracking purchases and expenses and having a deep understanding of your money flow – input vs. output.
Credit utilization is key. Consumers who max out their credit cards tend to make poor financial decisions. Reduce debt and keep total credit utilization to roughly 25%.
Divert a portion of each paycheck into savings. Unemployment, medical and home or auto damage are some of the biggest contributors to debt and bankruptcy.
The survey also found that there is a large discrepancy between adults who are actively saving for retirement (45%), despite that particular group showing 66% financial literacy. "Retirement is something that every American works towards, but is becoming increasingly elusive," said Padawer. "While retirement may mean an exit from the workforce, it is not an escape from financial obligations, especially if entering this phase of life with a large amount of debt. Education and preparation along with a high credit score should be an integral part of your financial planning."
Padawer adds, "Financial literacy is critical in today's economy. Lack of education is likely to lower your credit score, cost you money, and prevent you from achieving a stable lifestyle."
Additional information and tools for financial health can be found at http://www.LexingtonLaw.com.
About Lexington Law
Lexington Law Firm is a consumer advocacy law firm that focuses its practice in the area of consumer credit report repair. Lexington has helped hundreds of thousands of Americans work to improve their credit. The firm is comprised of dedicated attorneys and paralegals who deliver professional services to its clients on a daily basis. By leveraging consumer rights to resolve issues with creditors, data furnishers, and credit bureaus, Lexington Law Firm works to ensure that client credit reports are fair, accurate, and substantiated. For details about Lexington Law Firm's services or attorneys, please visit http://www.LexingtonLaw.com.