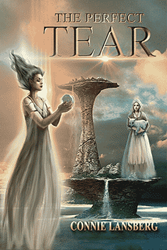 This young adult (YA) story offers drama, humor, romance, intrigue, salvation and most of all hope.
Los Angeles, CA (PRWEB) December 16, 2015
Connie Lansberg, popular songwriter, jazz singer, and now author, based in Melbourne, Australia, announces the launch of her new book, The Perfect Tear (Rockit Press) a unique, young adult fantasy that is the first of a three-part trilogy. Ms. Lansberg passionately believes our young people want a new story.
"Kids are frightened about what's going on today and they need a fresh angle on the future. The dystopian narrative is too close to reality and our children want stories to help them deal with fear." Unlike most action adventure tales, this narrative captures the rare spirit of a young and intelligent female heroine, and is packed with drama, humor, romance, intrigue, salvation and hope.
The plot is a cross between The Wizard of Oz and Lord of the Rings. It is a fast-paced and entertaining adventure, with sci-fi elements, written in a modern, cinematic style.
The Perfect Tear begins with the Singers of the world who, during their initiation by a multi-dimensional being, are given a magical three-pronged hair comb to use as tuning forks to help keep the world in harmony. They are a special breed of women, able to connect their voices to the vibration of the earth in order to create this needed balance and equilibrium for all.
The story follows the main character Eleanor, from age six to sixteen. She is a good-natured and dutiful young girl, with a profound ability to interact with both animals and nature. Like her mother, she is a powerful Singer but has not yet been initiated because she has not reached the age of maturity. After the unexpected death of her mother, a grey mist descends upon the earth and the world fails to thrive, forcing this innocent child into a course of action she had never asked for, nor had ever envisioned.
"Set against a backdrop of abandonment, loss and betrayal, Eleanor is determined to find her way through strange and dangerous landscapes in her desperate search for the Perfect Tear, a dark and powerful crystal that contains the Third Vibration, which she must find and release in order to heal the land. Just like the notes of a song must connect to create a perfect melody, Eleanor must discover the connections needed to create the harmony which will save her world." says author Lansberg.
The plot provides many fascinating twists and turns during Eleanor's exciting adventures. A bevy of interesting characters help to form the fabric of Eleanor's life and her world including her mother Maria, her father Charles, Tsera, the being who gives the Singers their power, her pet goat Bella, the Mother Superior, her best friend Audrey, Edward her love interest and heir to the throne, John his valet, and Lerion, a being intent on Eleanor's destruction.
"Eleanor is a simple girl with strong instincts which she needs to trust to help guide her through the strange and dangerous lands in which she finds herself. She soon learns that when love becomes stronger than fear – anything is possible. The Perfect Tear explores the challenging process of overcoming fear," states Lansberg.
The prose is written in a rhythmic poetic style, with Ms. Lansberg's songwriting influence felt throughout. As an example, "The world is beautiful and perfect. Every tree, every flower, every blade of grass, apples and honey and magpies and love."
The Perfect Tear is available on Amazon.com for $14.95 (paperback), $9.99 (e-book), http://www.amazon.com/Perfect-Tear-Connie-Lansberg/dp/0996216014/ref=sr_1_1?ie=UTF8&qid=1447351529&sr=8-1&keywords=the+perfect+tear+connie, or from Barnes & Noble.com, http://www.barnesandnoble.com/w/the-perfect-tear-connie-lansberg/1121724284?ean=9780996216012, or by ordering from Rockit Press, https://www.rockitpress.com/home.html. As an added bonus, an enhanced special release e-book version of The Perfect Tear will contain ten original pop songs sung by Connie Lansberg, and performed by veteran jazz musicians. Click here for a sampling: https://www.youtube.com/playlist?list=PL8kZSX2LW5QyF2WIjEaItUGrmmC_fB-5L.
The book was published by Rockit Press and is being represented by Little Studio Films of Beverly Hills, California, with future plans for a movie. See book trailer.
For further information, go to:
Author Website: http://www.connielansberg.com/
Facebook: https://www.facebook.com/connielansbergbooks/
Twitter: https://twitter.com/theperfecttear/
Goodreads: https://www.goodreads.com/work/quotes/45397048-the-perfect-tear/
PR Contact: Rhonda Rees
Email: rhondarees(at)aseitypress(dot)com
Phone: 818-325-2089