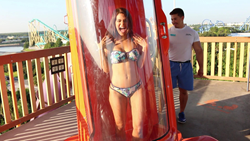 Orlando, FL (PRWEB) December 16, 2015
BestofOrlando.com's new video series begins by showing water park season in Orlando is all year round. While most of the country braves the bitter cold, the warm sun bathes the city of Orlando, even in the middle of December. The playful new video follows a gorgeous Latin model, Alina, as she journeys through Orlando's best theme parks, enjoying weather as flawless as her fashion sense.
To watch her spirited adventure and see what people are doing at Aquatica SeaWorld's Waterpark, click here. With the release of her first theme park visit, BestofOrlando.com is also offering 50% off Aquatica tickets for a limited time. Orlando temperatures are still in the 80s.
Alina begins her adventure in SeaWorld's sensational waterpark, Aquatica. Here, Alina discovers a life outside of beauty and fashion with a plethora of water rides, animals and attractions. Here are 6 awesome things to do at Aquatica right now:
1. See Commerson's Dolphins: Only place to see them in the Eastern USA.
2. Ihu's Breakaway Falls: Tallest and steepest multi-drop tower of its kind.
3. All You Can Eat: Great dining options (for an extra fee).
4. Scenic photos: Take a photo with friends and family along the beaches of Aquatica and more.
5. Animal Interaction: See, interact, and learn about various animals throughout the day.
6. Rent a cabana: Private cabanas are the perfect way to make the visit special (for an extra fee).
The good-humored look inside Aquatica will give viewers a taste of the action before ever stepping foot inside the gates, opening their eyes to a world of fun through Alina's first-time perspective. Plus, heed Alina's fashion forward tips for the day. After, subscribe to the BestofOrlando Channel, and be part of the process. Leave comments on the Video Page to help decide where Alina should travel to next in Orlando.
About BestofOrlando.com
BestofOrlando.com is operated by Entertainment Benefits Group Company (EBG) and has been providing entertainment tickets since 2001. It's the close relationships with Orlando partners that help BestofOrlando.com secure the best deals on theme park tickets, dinner shows, attractions, and hotels, so visitors can stretch their fun on their Orlando vacation. We offer the best prices online with a great customer service staff available seven days a week. Also, with the largest Vacation Center in Orlando located less than mile from the gates of Walt Disney World, we offer quick and convenient pick-up options, as well as fast and reasonable shipping options. At BestofOrlando.com, Universal Orlando Resort, Walt Disney World, SeaWorld Orlando, and much more are only a click away.