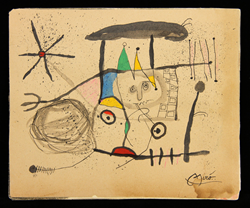 Beverly, Massachusetts (PRWEB) December 16, 2015
Kaminski Auctions' Annual New Year's Estates Auction is a two-day event Saturday, December 26th and Sunday, December 27th, 2015.
The auction will feature the private collection of Persian silver and antiques of a prominent Newport Beach, California university professor, as well as outstanding Art Deco furniture, important Judaica, paintings and medical books from the collection of Dr. Morton Haefitz of Swampscott, Massachusetts, items from the estate of George Gund III and a large collection of militaria from a Whittier, California estate.
Day One of the auction features a large selection of Asian antiques as well as an outstanding selection of Continental, English and American furniture from a New York estate. Day One of the auction also showcases the militaria from the Whittier, California estate that includes a variety of military uniforms, hats and weapons. The standout lot is an exceptional fall landscape by the American painter Eric Sloane (American, 1850-1936), titled "Autumn Clouds", oil on artist board, from a San Diego, California estate.
Day Two of the Annual New Year's Estate sale offers collectors a wide variety of decorative arts, fine estate jewelry, and Persian antiques. Unique pieces being auctioned include an extensive collection of rare and first edition medical books from a Swampscott, Massachusetts doctor's collection, Persian silver and Judaica an exquisite diamond necklace, a Bulgari South Sea pearl ring, B uccellati silver, and a bronze by Mauro Corda.
Art Deco furniture collectors will not want to miss the collection on offer. It is attributed to Jacques-Emile Ruhlman and includes an upholstered chair, with tapering macassar ebony legs, valued at $5,000-$8,000, a one of a kind, Art Deco bibliotheque, with two flanking side compartments, center sliding glass panels revealing three shelves, in macassar ebony, with mother of pearl inlaid decoration. This outstanding piece measures 63 3/4" high by 111" wide by 17" deep, and is valued at $30,000-$50,000. There is also a desk, side table, floor lamp and pair of Drouant Art Deco, side chairs, upholstered, in powder-blue velour all from the same collection.
The Art Deco theme continues with the top jewelry lot, which is a magnificent Art Deco bracelet, in platinum, diamond and sapphire, with diamond weight of 11.75 carats, sapphire weight of 22.45 carats, and approximately 38 grams total weight valued at $25,000-$50,000. There is also a ladies diamond necklace in 18 carat white gold with 73 diamonds, approximately 24.8 carats of diamonds, 41 grams total weight valued at $20,000-$30,000 and a selection ladies diamond tennis bracelets.
From the Italian goldsmith Buccellati, is a lot of 24 Buccellati sterling silver goblets valued at $8,000-$10,000, a Buccellati five-piece sterling silver tea set, with Florentine satin finish estimated at $10,00-$15,000 and an unusual signed Buccellati sterling silver lobster, approximately 55 troy ounces, valued at $7,000-$10,000 from a New York collection.
Highlights of the fine art in the sale include a abstract watercolor by Joan Miro of a horn player with a Pace Wildenstein gallery label verso, estimated at $20,000-$30,000, a pair of 17th century Italian paintings, one depicting the Manna from Heaven, the other depicting Water from the Rock, oil on board estimated at $6,000-$9,000 and a portrait of a lady by Ignacio Zuloaga y Zabaleta (Basque, 1870-1945) valued at $8,000-$12,000.
A Mauro Corda, bronze circa 1995-1996, titled "Fil a Plomb", edition 1/4, standing 35 1/2" high by 8 1/2" wide is estimated at $10,00-$20,000 and an 18th century German Meissen clock, with swans, cupids, flowers, and a nude woman estimated at $7,500-$12,500 both from the Newport Beach, California estate round out the top highlights of this important New Year's auction.
Preview takes place Tuesday through Thursday, December 22nd-24th 10:00- 5:00 pm and day of sale starting at 8:00am at the Kaminski Auction gallery, Rt.62, 117 Elliott Street, Beverly, Massachusetts. For more information go to http://www.kaminskiauctions.com and sign up to bid online with KaminskiLIVE.