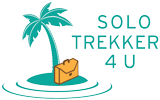 (PRWEB) December 16, 2015
Solo Travel is quickly becoming the darling of the travel world with more and more travel businesses trying to lure solo travelers by dropping expensive surcharges and penalties. No surprise to Elizabeth Avery, founder of SoloTrekker4U.com, a travel resource for solo travelers created in 2012 that aims to consolidate purchasing power and create a more level playing field for those traveling as individuals. The trend continues to shift as more and more people become comfortable with the idea of traveling solo, as evidenced by a recent Visa Global Travel Study which sites that solo travel is up 9% in the past two years (from 15% in 2013 to 24% in 2015). Below, Ms. Avery has outlined her top ten tips for those looking to spend the holidays traveling as individuals:

Go Big or Stay Home: Plan an outrageous, exciting adventure that will create memories and stories that will last years. The more remote and exotic the better. The holidays are the perfect time to kick up travel to another level.
Know thyself: If being away from home is a first, travelers who go solo might want to stay closer to home.
Sightsee: But make sure sights are open around the holidays, some might be closed. Be sure to check first.
Giveback: Volunteer vacations offer double benefits. Individual travelers can feel great about their vacation and help others while also meeting like-minded people and having some company.
Try a River Cruise: They provide solo travelers private cabins for time alone as well as a ready-made group for meals and sightseeing. Also the added security is a plus.
Knock something off the bucket list: Solo travel is the perfect opportunity to pursue a passion. Go to a yoga retreat, a fitness getaway or on a biking tour.
Develop a skill: Go to a cooking school in Tuscany or a Dude Ranch in Montana. These types of pre-organized travel experiences tend to attract other solo travelers.
Use Social Media/Technology: Find a local social dining club or use a neighborhood App to arrange a Progressive Dinner Party, a great way to meet interesting people.
Take up a Sport: Take ski lessons in the mountains, or try paddle boarding in the islands.
If you can't go somewhere, become a self-appointed daily docent at home: If the local museums and galleries don't need holiday help, offer to give free tours for foreign or out-of-town visitors through a church, synagogue or the local CVB.
For more information, great solo travel packages or to request a free 2015 Updated Solo Travel Tips e-booklet, go to http://solotrekker4u.com/
About Solo Trekker4U.com: Building Better Purchasing Power for Individual Travelers
SoloTrekker4U.com was launched Dec. 12, 2012 to achieve better purchasing power for those traveling alone. Solo Trekker 4 U connects those who travel alone with luxury hotels, top tours, single travel offerings and related solo travel services at attractive prices. All providers on the site have been pre-approved as to services offered and pricing relative to location and quality for single travel. SoloTrekker4U primarily focuses on well-priced 4- and 5-star travel options for its customers and offers solos top travel deals and pricing for free. For more information or to find a great solo travel vacation, go to http://www.solotrekker4u.com.