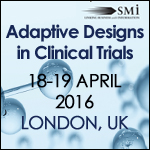 London (PRWEB UK) 16 December 2015
In recent years, the use of adaptive design methods has become very popular due to its flexibility for identifying clinical benefits of the testing drug. Adaptive designs offer the potential to reduce timelines and patient exposure while maximising the probability for successful outcomes. However, along with these benefits come challenges: additional complexity, needs for advanced statistical models and increased operational demands.
SMi Group is proud to present its 8th Annual conference on Adaptive Designs in Clinical Trials taking place on 18th – 19th April in London, UK.
The event is designed to highlight an array of topics, including adaptive designs within the context of a development programme, Bayesian analysis in adaptive design, biomarker-driven trials, opportunities of adaptive enrichment designs in the era of precision medicine, and much more!
Keynote speakers include:

Bo Huang, Director of Biostatistics, Pfizer USA
Alex Sverdlov, Associate Director of Biostatistics, EMD Serono
Loïc Darchy, Head of Statistical Methodology Group, Sanofi R&D
Philip Hougaard, Vice President, Biometrics, Lundbeck A/S
Giacomo Mordenti, Senior Director, Head of Biostatistics, Grunenthal
Bruce Turnbull, Professor of Statistics, Cornell University
For more information, to review the full agenda or to register please visit the event website at http://www.adaptivedesigns.co.uk
Highlights of Adaptive Designs in Clinical Trials 2016 include:

Explore the use of adaptive design methods in clinical trials
Adapt clinical development for immunotherapies in oncology
Evaluate adaptive designs and Bayesian statistic
Improve covariant adaptive designs
Seamless Phase I/II Dose Finding Designs with Efficacy and Safety Endpointsiscuss
In addition to the conference, the event will feature an interactive half-day post-conference workshops held on the 20th April 2016.
1. Design, Analysis and Simulation of Adaptive Clinical Trials Using ADDPLAN
Workshop Leader: Silke Jörgens, Senior Statistical Consultant, ICON Clinical Research
For more information or to register visit the event website at http://www.adaptivedesigns.co.uk
To take advantage of the EARLY BIRD OFFER register before the 18th December 2015 to save £400 off the conference price.
For delegate enquiries contact Matthew Apps +44 (0) 20 7827 6093 or email mapps(at)smi-online.co.uk
For sponsorship opportunities contact Alia Malick on +44 (0) 20 7827 6168 or email: amalick(At)smi-online.co.uk
For media enquiries contact Anna Serazetdinova on +44 (0) 20 7827 6180 or email aserazetdinova(at)smi-online.co.uk
8th annual Adaptive Designs in Clinical Trials conference and exhibition
18th – 19th April 2016
London, UK
Contact e-mail: aserazetdinova(at)smi-online.co.uk
Contact number: +44 (0) 20 7827 6093
Event Website: http://www.adaptivedesigns.co.uk
------------------------- END --------------------------
About SMi Group:
Established since 1993, the SMi Group is a global event-production company that specializes in Business-to-Business Conferences, Workshops, Masterclasses and online Communities. We create and deliver events in the Defence, Security, Energy, Utilities, Finance and Pharmaceutical industries. We pride ourselves on having access to the worlds most forward thinking opinion leaders and visionaries, allowing us to bring our communities together to Learn, Engage, Share and Network. More information can be found at http://www.smi-online.co.uk