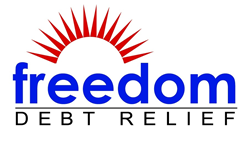 Fortunately, there is time left for people to take a deep breath, re-evaluate their holiday budgets, and avoid going deep into debt at the holidays.
San Mateo, Calif. (PRWEB) December 17, 2015
About a week remains to prepare for Christmas, and just a couple of weeks remain before New Year's – but it isn't too late to take stock of holiday budgets and plan for a debt-free holiday, says Andrew Housser, co-CEO of Freedom Debt Relief.
"For some people, especially those worried about debt, December can be hazardous. Last-minute holiday shopping can amount to bills that take months to pay, or even push consumers over the edge into unmanageable debt," Housser says. "Fortunately, there is time left for people to take a deep breath, re-evaluate their holiday budgets, and avoid going deep into debt at the holidays."
Freedom Debt Relief (FDR) is the leader in the debt settlement industry. Since its founding, the company has helped clients resolve more than $4 billion in debt, more than any other company in the nation. FDR works to help people who owe thousands of dollars in debt to clear the debt and restore their credit.
Housser and his team at FDR provide these eight tips to help consumers avoid going into debt this holiday season.
1. Skip self-gifting. The National Retail Federation reports that people expected to spend more than $130 on non-gift items for themselves and others this year. Instead, consumers can use that money to pay down debt or invest in savings, rather than adding to holiday bills.
2. Check Santa's list twice – and return the excess. Those who have fallen into the trap of buying another item – and yet another – for people on their lists can still correct the situation. "It is not too late to return unneeded gifts to the store," Housser says. "This is also a good time to check for lower prices and ask for price adjustments. Just be sure not to buy more while you are there."
3. Skirt unexpected shipping. Shipping costs can torpedo budgets of last-minute shoppers. Consumers using the U.S. Postal Service can ship by Dec. 21 via Priority Mail for delivery by Christmas Day. After that, shippers must rely on more costly Priority Express mail. Fed Ex has a similar deadline, and the last day for UPS 3-Day Select shipping is Dec. 18. Avoid high fees by shopping on Free Shipping Day, Dec. 18. Or avoid the issue by purchasing gift cards or e-gift certificates that provide free online delivery, or making donations in recipients' names for cost-free delivery.
4. Treat family and friends to the gift of time. Instead of buying another pricey electronic gadget or an extra pack of socks, give the gift of time and caring to friends and family. Give coupons for a dozen cookies several times a year, free babysitting, shoe polishing, a delicious casserole, house cleaning, dog walking or anything your gift recipient would appreciate. Often, the gift of time is far more welcome than material items.
5. Say no to store credit cards. While in-store discounts can be tempting, Housser cautions that the interest you might pay could outweigh your savings. "You might receive 15 percent off that day's purchase, but if you wind up paying 20 percent interest on the balance, the retailer – not you – is coming out ahead," he says. Housser also notes that applying for any credit card triggers a credit inquiry that can lower a person's credit score by as much as 30 points. "If you already signed up for a new card this holiday season, you can cancel it."
6. Avoid the temptation of ads. Advertisers barrage people with tantalizing images and supposed bargains for a reason – it works. "Many frugal shoppers understand that you will not want something if you do not know about it," Housser says. To avoid temptation, recycle catalogs and mailers without reading them, and unsubscribe from "deal" newsletters.
7. Find healthy outlets for stress. The holidays are well-known to cause stress, which in turn can lead to debt-building outlets such as "retail therapy" or eating out. Be aware of this pattern and instead try healthy alternatives, including exercise, a cup of tea with a friend, or turning in early to get enough sleep.
8. Do not let holiday entertaining break the bank. The average holiday meal for 10 people costs about $50 to prepare, according to the American Farm Bureau Federation. Costs can soar when you add wine or cocktails, specialty desserts, gourmet meats or luxe decorations. "The last thing you want to do is be paying a credit card bill in February for a party one night in December," Housser says. Create a budget for holiday entertaining and stick to it, he suggests. "Pick one event to host instead of many, and keep festivities simple, fun and affordable."
Freedom Debt Relief (http://www.freedomdebtrelief.com)
Freedom Debt Relief (FDR) is part of the Freedom Financial Network, LLC (FFN) family of companies. FDR works as an independent advocate to provide comprehensive financial solutions, including debt consolidation and debt settlement, for consumers struggling with debt. The company has resolved more than $4 billion in debt and assisted more than 300,000 clients since 2002.
Based in San Mateo, California, FFN also operates an office in Tempe, Arizona. The company, with more than 900 employees, was voted one of the best places to work in the San Francisco Bay area in 2008, 2009, 2012, 2013 and 2014, in the Phoenix area in 2008, 2009, 2010, 2012, 2013, 2014 and 2015. FFN's founders are recipients of the Northern California Ernst & Young Entrepreneur of the Year Award. The company is an accredited member of the American Fair Credit Council, and a platinum member of the International Association of Professional Debt Arbitrators.
(end)