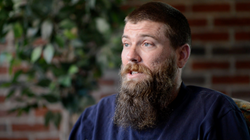 Often, people struggling with addiction don't know where to turn for help, and believe that there is no hope,
Grand Rapids, Michigan (PRWEB) December 16, 2015
In an effort to offer hope and encouragement for those who might be in need of help in overcoming addiction, Serenity Point Recovery, a holistic residential treatment center for substance abuse located in Marne, MI, has released three new segments in their Graduate Testimonial video series. The videos, which are available for viewing on the Serenity Point YouTube channel, feature reviews from the graduates about their journey through the recovery process at the rehabilitation center, and focus on the different things that each patient found beneficial in their treatment.
"Often, people struggling with addiction don't know where to turn for help, and believe that there is no hope," commented Serenity Point founder Per Wickstrom. "The point behind our series of success story videos is to show people that there is always the opportunity to make that change, and that no person is ever too far gone to recover from addiction. Even if they decide to go to a different treatment center than ours, the important thing is that they understand that recovery is possible. We hope that these videos will help people to realize that, so that they might find the help that they need before it is too late.
"Recovery Stories from Three Serenity Graduates
Keith B., James T., and Jacob M. are the three graduates in this installment of graduate Testimonial videos, each with their own unique story to share, and from a viewpoint different from one another.
Keith tells viewers about how he came to understand that he needed treatment to overcome his addiction, and how, supported by his father and his brother, he found his way to Serenity Point.
"They told me about this rehab, and it sounded ideal for me," he says in his testimonial. "I got here and everybody had a big smile on their face. I felt like I could get help here. It was awesome."
James speaks about his experience in Serenity Point's medically supervised Detox Clinic and the support that he got from the staff and the other patients. "They made it a lot more comfortable than I ever thought that they would," he says. "It was not as rough as I expected."
Jacob had two previous attempts at rehabilitation before finding Serenity Point. "I tried going off the whole 'third time's a charm' deal," he said, "but it's a little more than that now. I really found some inner peace."
Serenity Point Recovery takes a distinctive approach to the treatment of substance abuse with a dynamic program that can be adjusted to fit the needs of anybody seeking help in overcoming addiction. With guidance from the staff, the patients at Serenity discover a new path to recovery and a healthier and more productive lifestyle, free from drugs and alcohol.