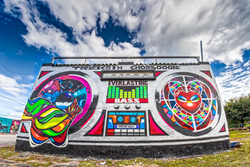 The new Boom Box mural raises the question: How can companies participate with the street art culture, rather than co-opt it?
Miami, FL (PRWEB) December 16, 2015
"Culture 4 Sale: Wake Up & LIVE" is the new title for the freshly renovated "Everlasting Bass Boom Box" mural, a popular and widely photographed landmark of Miami's vibrant Wynwood Arts District. The new piece addresses corporate co-opting of the street art culture in Wynwood, where street art has flourished on the industrial surfaces for many years.
The "Everlasting Bass Boom Box" mural was created by notable spray paint artists Trek6 and Chor Boogie in 2012. The artists returned to give their mural a fresh look during Art Basel Miami 2015. Trek6 has been a resident of Miami since 1985. Chor Boogie and Trek6 have been painting collaboratively in Wynwood for 5 years.
Trek6 says: "'Culture 4 sale' is a statement about a phenomenon known as cultural appropriation. In this case it's the business of Wynwood. Too many corporations, using art as their tool, are diluting the culture and creating an environment that cheapens the art and benefits only an elite group."
More and more in Wywood, companies are displacing founding artists and authentic murals with brand-themed advertisements that mimic street art aesthetic. Both Trek and Chor Boogie, along with other artists, have endured artistic displacement by corporate branding, with one of Chor's murals being the latest casualty.
Days before artist Chor Boogie was to touch up his well-known "Tiger Love Blood" mural at a different location in Wynwood during Art Basel Miami, he was informed that the Viber company had purchased the wall space and the mural was to be replaced with a sponsored image depicting the company's mobile sticker products. Adding another layer of complexity, the company's selected artist​, Alec Monopoly​,​ recently received media attention for having much of his artwork covertly designed by ​"ghost-artist" Mike Mozart under exploitative conditions. ​​Mozart has since parted ways with Monopoly, and Monopoly exhibited his true solo work on the new Viber wall in Wynwood.
"I know street art can be ephemeral, but I'd rather the space here in Wynwood had been used for legitimate art," said Chor.
The new Boom Box mural raises the question: How can companies participate with the street art culture, rather than co-opt it?
We have companies such as Beck's and Goldman Properties providing a more socially conscious model by sponsoring artists to make original pieces with relative artistic freedom, without any requirement to insert corporate branding. Simple plaques honor the artists and sponsoring companies. The superior publicity and visitor attraction benefit the company.
Robert William de los Rios, Curator / Creator of the Beck's Urban Canvas Project, Curator of the RAW Project, and Co-Owner of WynwoodMap.com says:
"The artists are the ones who created this place. Companies are only there because of the artists, so they should give them the respect they deserve. Wynwood wouldn't be what it is today without what these geniuses have built. None of these developers would have their office spaces, restaurants, coffee shops, boutiques, or the money they've made off of these spots, without the artists. It's only right that they give back to the art community with all the profits they've been making."
Williams asserts: When companies choose to paint over existing art, it would be a better approach to communicate with the displaced artist and find a new space or opportunity for them whenever possible, in addition to sponsoring authentic art.
Visit the new "Culture 4 Sale: Wake up & LIVE" mural:
NW 6th Ave. & 23rd St.
Miami, FL
Connect with the artists:
http://www.treksix.com
Instagram @trek6
http://www.chorboogie.com
Instagram @chorboogie
facebook.com/chorboogie01
For media inquiries and interviews, please email Medicinal Media Public Relations: info(at)medicinalmediapress(dot)com.