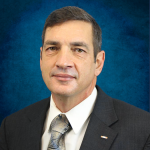 Cypress, CA (PRWEB) December 16, 2015
Trident University International (Trident), a leading 100% online post-secondary institution that offers degrees at the bachelor's, master's, and doctorate levels, recently partnered with The Balancing Act airing on Lifetime® Television to discuss the benefits of higher education for adult students. These segments aired on November 11th and 18th, 2015.
Dr. Holly Orozco, Vice Provost of Institutional Effectiveness and Dean of the Colleges of Health Sciences and Education, retired Command Sergeant Major (CSM) Philip F. Johndrow, National Director of Strategic Military and Veteran Alliances, discussed the importance of the student experience, as well as the key Trident values of student success and academic excellence.
Trident, with over 22,000 military alumni and 79% of its current student population made up of individuals from active duty, veteran, dependents and National Guard communities, enrolls a diverse group of students from all over the world.
CSM(R) Johndrow, a 33-year veteran of the United States Army, shared his experience preparing for his eventual transition into the civilian world. He earned two degrees from Trident - a Master of Business Administration and a Bachelor's of Science in Business Administration from Trident – while on active duty in Iraq, graduating both summa cum laude.
Dr. Orozco, who has over 10 years of progressive leadership within institutions of higher education, discussed why an online education at Trident is the right fit for busy adults. The passion and commitment that the faculty brings to the classroom, along with the University's focus on developing critical thinking skills, allows students to grow and develop in an environment that prepares graduates for the corporate world.
To learn more about Trident and its community of adult learners, please visit http://www.trident.edu. Trident is regionally accredited by the Western Association of Schools and Colleges (WASC) Senior College and University Commission.
For any media inquiries, please contact Daniel Sloan at daniel.sloan@trident.edu.
About Trident University
Founded in 1998, Trident University International (Trident) is a leading online postsecondary university serving adult learners. Trident developed the Trident Learning Model, which employs case-based learning in an online setting to teach real-world relevant critical thinking skills to enhance the lives and careers of students. Trident offers high-quality bachelor's, master's, and doctoral degree programs, led by a qualified faculty team, over 80% of who have doctoral degrees. Visit http://www.trident.edu, Trident's Facebook page, or call at (855) 290-0290 to learn more about Trident's wide range of bachelor's, master's, and doctoral programs.
About The Balancing Act® on Lifetime Television
Now in its 8th year, The Balancing Act® continues to empower women in all aspects of their lives. The mission at The Balancing Act® is simple -- the show strives to help today's modern woman balance it all by bringing them positive solutions to enrich and empower them. Entertaining, educational and trusted by women, viewers can watch America's premier morning show The Balancing Act® weekday mornings on Lifetime® television, Monday-Friday at 7:30 a.m. (ET/PT). For additional information or to view a segment visit: http://www.thebalancingact.com.