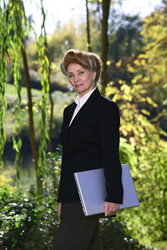 Grants Pass, OR (PRWEB) December 16, 2015
China's recent red alert air pollution crisis that has closed schools and restricted traffic, is also causing numerous health problems. The most publicized health problems involve the lungs and breathing passages. To combat this, the government is making available hundreds of millions of protective face masks. The red alert, according to Sharon Kleyne Reports, is also causing a crisis in severe dry eye disease for which there is no protection comparable to the face mask. A new product from America's Bio-Logic Aqua® Research Water Life Science® may have finally solved China's eye protection problem.
China's red alert air pollution crisis, the resulting dry eye epidemic and the China launch of the product Nature's Tears® EyeMist® will be discussed on the Sharon Kleyne Reports segment of the Sharon Kleyne Hour® Power of Water® radio show, Monday, Dec. 21, 2015. For the live show or a podcast, go to http://www.SharonKleyneHour.com.
The globally syndicated, education oriented radio show is heard weekly on VoiceAmerica (Health and Wellness, and Variety Channels) and Apple iTunes. The show is sponsored by Bio-Logic Aqua® Research Water Life Science®, founded by Kleyne and specializing in fresh water, the atmosphere, body surface evaporation and dehydration. Nature's Tears® EyeMist® is the Research Center's signature product for dry eye and eye surface hydration.
Bio-Logic Aqua® Research Water Life Science® has been working closely with pharmaceutical companies and medical research centers in China, and with the government of China, to facilitate the launch of Nature's Tears® EyeMist® tear film supplement and dry eye protection product.
Kleyne has visited China several times and is in close contact with Yuan Fang, M.D., Ph.D., a leading biogeneticist in Hangzhou, a city seriously affected by the current air pollution alert.
The widespread air pollution problem, Kleyne explains, is attributed to China's immense population, reliance on coal for power generation, and growing use of fossil fuel burning vehicles. Other contributing factors include expanding desertification, climate change and geographic configurations around the worst hit areas. The result, in China's densely populated northern industrial basins, is warm, dry, polluted air trapped under a particularly resilient winter inversion layer.
The human body, under these conditions, experiences an accelerated rate of surface water evaporation. The result is dehydrated body surfaces including lungs, skin and eyes. Without preventative or corrective measures, body surface dehydration can lead to inner body dehydration and a compromised immune system.
The surface of a normal eye, Kleyne explains, is 99 percent water and is protected from the surrounding atmosphere only by a microscopically thin lipid (oil) layer. Accelerated tear film water evaporation produces an inflammatory response that can cause dry eye symptoms such as itching and burning eyes, blurred vision, headache, fatigue, stress, etc. Suspended carbon particulates are also irritating to the eye surface. The more compromised the tear film, the less able it is to wash away irritating particulates.
There is no reliable protection for the eyes at this time, Kleyne notes, that is comparable to face masks for the lungs. The only way to protect the eyes from dry eye caused by exposure to air pollution is to prevent the tear film from losing excessive of water content to accelerated evaporation.
Tear film water supplementation is the purpose of Nature's Tear® EyeMist®. The product consists of a personal, portable hand held medical devices that emits a pure water mist of ultra fine, pH balanced water droplets. The mist droplets emulate natural, unpolluted humidity that the tear film readily absorbs. Kleyne's Research Center has discovered that two to five nanoliters of supplemental water to the eyes, applied as an ultra fine mist, will usually restore the tear film to full capacity and alleviate dry eye symptoms.
According to Kleyne, the policy of the Government of China is to encourage the availability of personal health protection devices that allow individuals to defend against air pollution while the government works to alleviate the sources of the pollution.
©2015 Bio-Logic Aqua® Research Water Life Science®. All rights reserved.