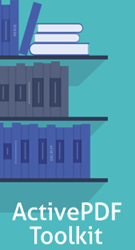 It is an honor that Toolkit is recognized by Visual Studio Reader's Choice Award for 10 years in a row.
(PRWEB) December 16, 2015
ActivePDF announced the release of a new version of Toolkit, a world-renowned suite of programmatic PDF manipulation functionality for professional .NET developers. The new release includes significant productivity functionality to enhance building sleek, high-performing document workflow environments.
The ActivePDF Toolkit was recognized with a Silver Award by the annual 2015 Reader's Choice Awards in the category of PDF Print/Preview Components and Tools, making this ActivePDF's 10th consecutive win and the only PDF vendor ever to do so. The 2015 winners are chosen by the readers of Visual Studio Magazine and honor the best Visual Studio-related tools and services in 31 categories.
"Toolkit is a proven, solid product with specialized functionality to quickly enable developers to deliver efficiency in high-volume repeatable business document processes," says ActivePDF CEO Tim Sullivan. "It is an honor that Toolkit is recognized by Visual Studio Reader's Choice Award for 10 years in a row. Adding additional levels of security to compress, XMP enriched PDF documents assures that access to critical information is smart, accessible, and secure."
ActivePDF Toolkit enhancements include:

Extensible Metadata Platform (XMP) functionality: XMP is designed to greatly extend metadata content regarding what is in the document. Examples include invoice numbers, patient, student, customer names, Loan IDs, or any other data within an existing infrastructure. Extended XMP data provides the ability to classify and index for document processing/archiving procedures. Now, when flattening PDF forms, the fields values can be automatically embedded as XMP so that the connection between the form and the data is never lost.
Object Stream Compression: Companies that are heavily reliant on document archiving for business, government, or regulatory requirements have a huge challenge to efficiently store and retrieve documents. Toolkit now provides a fast and efficient object stream compression method for reducing the physical size of PDF files. Combined with XMP metadata, the documents are tighter and smarter.
Advanced Encryption Standard (AES) 256 Encryption: AES 256 is used by the U.S. government to protect classified information and is implemented in software and hardware throughout the world to encrypt sensitive data.
Performance: Throughout the Toolkit product, enhancements have been implemented, resulting in substantial increased performance from the previous versions.
Availability
ActivePDF offers a no-charge, 30-day trial of Toolkit, which may be downloaded at http://www.activepdf.com/products/toolkit. Online visitors may also access Blog topic: "Metadata XMP: Delivering Content in Context" as part of the ActivePDF experience.
About ActivePDF
Founded 2000, ActivePDF is a global provider of PDF server-based tools for integration within business processes, including Enterprise Content Management (ECM), Document Management, and Workflow solutions. The ActivePDF suite is designed to streamline large volumes of rendering and assembly of content into secure PDFs. We serve numerous verticals including: Healthcare, Financial, Manufacturing, Utilities, Engineering, Legal and Government. With a substantial market presence of over 23,000 customers and distribution in more than 300,000 server licenses within 90 countries. For more company information, visit ActivePDF at http://www.ActivePDF.com. Follow on Twitter @ActivePDF or "Like" on Facebook http://www.facebook.com/ActivePDF.
###