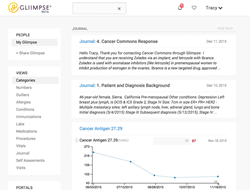 We're enabling an entire networked community, with patients and physicians working together, to basically transform cancer research.
Silicon Valley, CA (PRWEB) December 18, 2015
Gliimpse - the world's first Personal Health Data platform, now allows people to collect, personalize and share a history of their health with others. Gliimpse's patient advocates just completed an early stage case study between a group of patients providing shared access to their breast cancer data with experts at Cancer Commons. By sharing their Gliimpse – a longitudinal health history owned by the patient – the network of researchers at Cancer Commons were able to respond with insights to help patients discuss their individual care with physicians while pioneering patient mediated data sharing for digital clinical trials with Cancer Commons.
"The goal of this study was to let health care professionals comment with expert considerations recorded directly within a user's private health history," explains Anil Sethi, Gliimpse's Founder and CEO. "The technology functions like a private, invite-only version of my Facebook wall. People in the study decided to share their cancer data directly with trusted experts at Cancer Commons who responded with their professional opinions written into user's private health record, their Gliimpse."
This case study illustrates how The Sharing Economy mindset is evolving the space of digital health by putting patients at the center of their data. No HIPAA violations, no draconian faxing of records from multiple doctor's offices, no interlopers between individuals and the caregivers providing their direct insights to improve a patient's care.
"I learned there have only been a few publications but no drug research regarding my particular type of cancer," says Karen Powell, a breast cancer patient participating in the Gliimpse trial with Cancer Commons. "Such conversations have to start somewhere for those of us without research into our disease."
As a next step in the case study, users will next be able to donate their data for research. Donating their personal observations along with their clinical data to others makes people feel their suffering is not in vain.
"Cancer Commons and Gliimpse are committed to transforming cancer research and care," notes Marty Tenenbaum, PhD, Chairman of Cancer Commons and a melanoma survivor. "When patients share or donate a Gliimpse of their data they get the best collective outcome in a collaborative research process that's much faster than traditional medical trials. We're enabling an entire networked community, with patients and physicians working together, to fundamentally transform cancer research."
Gliimpse was founded on the core belief that everyone should be able to collect and securely share their personalized health data with whomever they trust. Now users also benefit from direct caregiver feedback as part of their permanent and portable health record, setting the bar for modern health.
Anyone can register for a Gliimpse Health Profile and learn how to Share or Donate their data TODAY by going to http://www.gliimpse.com and using the code, GLCC801.
The simplest way to share a glimpse into your health.
Cancer Commons is a non-profit open science initiative, where cancer patients are treated in accord with the latest knowledge, and that knowledge is continually updated based on each patient's response. Learn more at cancercommons.org.
For more Information:
John Havens
Director, Public Relations
john.havens(at)gliimpse(dot)com
917-597-3323