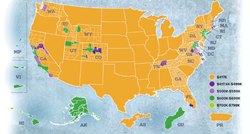 Innovations like this can help the military community get the most out of their home loan benefits."
(PRWEB) December 17, 2015
The zero down payment potential of the VA Home Loan Guaranty is one of its biggest advantages over other home loan programs.
Eligible and qualified VA borrowers have the opportunity to purchase a home without a down payment, as long as they stay within the VA loan limit. "Limit" does not mean the cap on the amount of money a VA-approved lender will fund. Rather, in this case, "limit" refers to the maximum loan amount the VA will guarantee without a down payment.
While the standard limit holds steady at $417,000 in most areas, Veterans in high-cost areas like Pensacola, FL, District of Columbia and Honolulu, HI should know that their limits may exceed the standard. In fact, there are 204 counties and territories where VA limits are higher. Known as expensive housing markets, these areas have limits as high as $625,500 (even more in Hawaii). In 39 high-cost areas, limits are going up. The remaining 165 stay the same.
To help Veterans make sense of it all, top-rated VA specialty lender iFreedom Direct® has released two useful online tools. The first is a map of the 2016 limits. The second is a VA loan limit finder. With the color-coded map, borrowers can easily spot where loan limits are higher. And the handy search tool gives borrowers real-time limits based on the city where they want to buy a home.
"It's easy to see the big picture on the map and then zero in on your own limits with the calculator," shares iFreedom Direct® Purchase Team Manager, Tim Lewis. "Innovations like this can help the military community get the most out of their home loan benefits."
In addition to presenting loan limits in a convenient format, iFreedom Direct® also provides some light reading to help borrowers better grasp the basics of the Department of Veterans Affairs' VA Loan Guaranty Program. The federal agency provides VA-approved lenders like iFreedom Direct® with backing on loans. In turn, lenders can pass on attractive loan features like zero down payment and no private mortgage insurance to eligible and qualified borrowers.
To use the benefit, VA borrowers (unless exempt) are subject to a funding fee. The fee pays for VA costs to administer the program. Typically, the VA guarantees 25 percent of the loan up to the limit where the home is located. For loans over the limit, most lenders require the VA backing, plus any down payment provided by a Veteran, to total 25 percent of the loan amount. Even with a down payment and the funding fee, Veterans could still get an upfront cost savings in comparison to other loan programs.
Each December, the VA puts out new limits that go into effect on New Year's Day. Limits each year can change based on the housing markets.
Regardless of loan limits, borrowers first have to qualify for their loans. Potential loan applicants should be prepared to present credit history, income and other documentation to meet VA and lender qualification standards.
While an overview of the VA loan limits can be found on the mortgage company's website, key takeaways of the 2016 VA Loan Limits include:

VA limits are up in 39 counties in 6 states
Colorado has the biggest increases at 8.1%
Hawaii still has limits over $625,500 and up to $721,050 in some areas for 2016
iFreedom Direct® is offering VA loans with higher 2016 VA loan limits effective January 1, 2016.
To learn more about VA loans and conforming limits visit http://www.ifreedomdirect.com or call 1-888-359-6084.