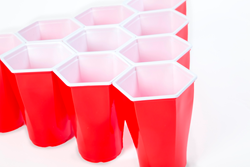 The most noticeable difference is probably that the cups don't move around at all during the game. They are firmly, almost locked against one another so you don't have to mess with the rack.
Kansas City, MO (PRWEB) December 17, 2015
The designers, two fraternity brothers and graduates from the Missouri University of Science and Technology, applied a hexagonal shape to their cups so that they fit together just like a honeycomb. As expected, the cups slip together into the form of a triangle with a lot less time and effort than the traditional round style. The hexagon shape of the rim allows the cups to come together snugly, eliminating any visible gaps in a full rack. The rack of cups stays neatly arranged with less tendency for lips to hop on top of one another.
In addition to the new look, the creators added a feature on the bottom of each cup that might actually be more innovative. They designed-in a special shape that breaks the surface tension of water on the table, preventing the cups from moving out of place on a slick surface. They call it an "Anti-Ghosting Base." Gone are the days of asking an opponent to re-seat the cups. This new feature means that when the playing surface gets splashed with liquid, even empty cups can stay in place instead of floating or ghosting around like other brands.
The inventors also chose a different material than the standard cup which makes their product less brittle. The material is safe in the top rack of the dishwasher and gives the cups an incredible ability to resist cracking and splitting. In promotional videos, they actually run one over with a car and give another to a Labrador for use as a chew toy. Both cups survived and held water. This means that when games get rowdy and cups take a pounding, the Hexcup can just be popped back into shape while regular cups would crack and split in half.
Are the Hexcups a game changer? Well, you might just have to check out their crowdfunding page to decide for yourself at Kickstarter. To meet their manufacturing minimum and make the Hexcup a reality, the creators ask you to donate to their campaign at Kickstarter. In return, you'll receive the product before anyone else and be the first to experience the best beer pong cups in the world.