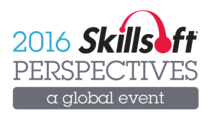 We look forward to providing attendees the opportunity to learn, engage and exchange ideas and best practices on how to build successful organizational cultures by improving the performance of their people.
NASHUA, N.H. (PRWEB) December 16, 2015
Skillsoft, a global leader in learning and talent management, today announced the main keynote speakers for its annual user conference, 2016 Global Skillsoft Perspectives, taking place May 9-12 at Caesar's Palace in Las Vegas, NV. Dr. Peter H. Diamandis, named one of "The World's 50 Greatest Leaders" by Fortune Magazine and motivational psychologist Dr. Heidi Grant Halvorson will inspire business leaders from hundreds of world-class organizations who will come together to discuss HR trends and challenges.
"The highly-acclaimed speakers at Perspectives will inspire customers to drive innovation and meet organizational goals through HR programs," said Jerry Nine, Chief Operating Officer at Skillsoft. "We look forward to providing attendees the opportunity to learn, engage and exchange ideas and best practices on how to build successful organizational cultures by improving the performance of their people."
In his presentation, Achieving Innovation and Breakthroughs, Chairman and CEO of the X PRIZE Foundation Diamandis will explain how traditional thinking and risk aversion causes the demise of companies unable to cope with the changes brought by disruptive innovation. He will discuss how the rapid growth of key technologies is empowering individuals and companies to do what only governments were able to achieve in past decades. Attendees will learn:

How to encourage breakthrough thinking focused on achieving clear, measurable and objective results within your own organization.
The key factors attributed to the demise of organizations.
Incentivizing breakthroughs to ignite rapid growth for new products and strategies to ultimately reinvent your organization.
Motivational psychologist and author of the best-selling book "Succeed: How We Can Reach Our Goals and Nine Things Successful People Do Differently, Dr. Heidi Grant Halvorson will present on The Incredible Benefits of a Get Better Mindset. In this talk, Dr. Grant Halvorson will describe the mindsets individuals and organizations bring to the goals they pursue. She asserts that people should embrace a "Get Better" mindset – where we always perceive ourselves as having more to learn – to achieve personal and professional success.
Beyond the keynotes, Perspectives attendees will take part in 55 breakout sessions featuring real-world use cases, success stories and insight into future Skillsoft product roadmaps, as well as 20 how-to workshops and hands-on labs that span the range of Skillsoft solutions across talent, workforce, learning, leadership development and compliance.
At the event, Skillsoft will announce the 2016 Innovation Award winners for organizations being honored for their work in talent, learning and workforce management. Skillsoft customers are encouraged to submit for a variety of distinctions, including Program of the Year, Talent Development Champion of the Year, Distinction in Workforce Excellence, Thinking Big: Small and Medium Businesses (SMBs), Empowering Continuous Talent Development, Compliance and Ethics Excellence and Creating an Impact. Entries must be submitted by Feb. 22. To learn more and apply, visit http://ow.ly/VHt8b.
Tweet this: Keynote speakers @PeterDiamandis @hghalvorson announced for @Skillsoft #Perspectives16 http://ow.ly/VXw3k.
About Skillsoft
Skillsoft is a pioneer in the fields of learning and talent management with a long history of innovation. Skillsoft provides cloud-based learning solutions for its customers worldwide, ranging from global enterprises, government, and education to mid-sized and small businesses. Skillsoft's customer support teams draw on a wealth of in-house experience, flexible delivery platforms and a comprehensive learning e-library to develop off-the-shelf and custom learning programs tailored to cost-effectively meet customer needs. Skillsoft's courses, books and videos have been developed by industry leading learning experts to ensure that they maximize business skills, performance, and talent development.
Skillsoft currently serves over 6,700 customers and more than 45 million learners around the world. Skillsoft is on the web at http://www.Skillsoft.com.
Skillsoft, the Skillsoft logo, Skillport, SkillChoice, Books24x7, and learning-centric Talent Expansion are a partial listing of the trademarks or registered trademarks of Skillsoft Ireland Limited in the United States and certain other countries. All other trademarks are the property of their respective owners.