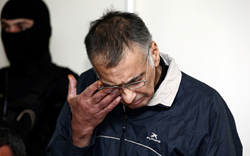 London, UK (PRWEB UK) 29 December 2015
As the population of the world – regardless of creed – come together with family and friends at this festive time, it is worth remembering the fate of two men and their families, for whom this period is filled with hopelessness and pain. On 29 December, all Azerbaijanis and those who believe in human rights and the maintenance of international law remember the first anniversary of the harsh verdicts passed against Dilham Asgarov (aged 54) and Shahbaz Guliyev (aged 46), two men who were jailed for life and 22 years, respectively, by a court in Armenian-occupied Nagorno-Karabakh for the alleged crime of visiting their ancestors' graves (no court number issued). This release by TEAS has been issued to remind the world of these men and their sad plight as geopolitical pawns between Azerbaijan, Armenia and other interested parties, and to provide some commentary for those who were previously uninformed of the issue.
In June 2014, Dilham and Shahbaz made a pilgrimage to the graves – as they had done many times before – in Kelbajar, an Azerbaijani region that has remained under Armenian occupation for more than 20 years. Travelling with a third friend, named Hasan Hasanov (aged 38), they were ambushed by Armenian armed forces. Hasan was murdered, and Dilham and Shahbaz were taken hostage on their own homeland. After three weeks of negotiations masterminded by the International Committee of the Red Cross (ICRC), the corpse of Hasan was returned to his family for burial. The ICRC is continuing to monitor the conditions under which Dilham and Shahbaz are being held, together with their health.
Victoria Nuland, Assistant US Secretary of State for European and Eurasian Affairs, has requested that these men should be immediately freed. Federica Mogherini, Vice-President, European Commission and High Representative of the EU for Foreign Affairs and Security Policy, condemned this as an unlawful act, given that they are civilians.
TEAS considers that the arrest, trial and incarceration of these men clearly subverts the concept of international law, and their human suffering gives a face to a conflict that has continued for so long, yet remains overlooked and forgotten by the mass of the international community. Armenia has occupied nearly 20 per cent of Azerbaijani territory for 20 years. Despite four UN Security Council resolutions being passed against the occupation, it continues to this day. The decision of the occupying Armenian forces to take Azerbaijanis as hostages on their own rightful homeland demonstrates Armenia's continuing provocative stance.