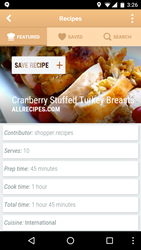 This year you can see taste, ease of preparation and healthiness all gaining as selection reasons
NEW YORK, New York (PRWEB) December 17, 2015
PDN's Shopper, a leading mobile shopping list application with more than two million installs (get it free here, surveyed its user base to determine the brands of turkey users cooked for Thanksgiving, favorite thanksgiving side dish and important factors in choosing the turkey. Noteworthy findings included:

After a dip in 2013 when it had issues with supply, Butterball again leads this year with 41%. No other single brand was over 5%.
Similar to 2013, there was a significant jump to 17.6% of people not cooking turkey for Thanksgiving. Last year only 11.59% did not cook turkey.
Taste (44.4%) won again over healthiness (13.9%) and value for money (18.5%) as the main factor in choosing a brand of the turkey.
On the side dish leadboard, Thanksgiving stuffing is number one again with 29.4%. Cornbread dressing is the runner up with 14.7%, beating last year's favorites: cranberry sauce, sweet potato, and gravy.
Consistent with previous years, there was no statistically significant mention of organic or free-range Turkey among the shoppers surveyed.
For more info about the survey, go here.
"This is our 5th year running the survey. This year you can see taste, ease of preparation and healthiness all gaining as selection reasons," said Sean Flynn, CEO of the Purchase Decision Network, "Meanwhile, value has declined. All seemingly positive economic indicators!"
Shopper saves users time and money every day by organizing shopping lists, suggesting great recipe ideas, and suggesting grocery coupons.
Shoppers can visit http://www.MyShopperApp.com for more information and to download the application.
About The Purchase Decision Network and Shopper
The Purchase Decision Network (New York) is the first and only native advertising network for CPG brands. PDN includes shopping apps that reach consumers across the purchase path as they plan, shop in stores and engage with the brands they love. PDN powers over 10MM shopping trips a month through best selling apps including Out of Milk, Buy Me a Pie, Scan2List and Shopper.
Contacts
Sean Flynn, CEO
The Purchase Decision Network
(888) 816-8125
pr(at)pdnmedia(dot)com