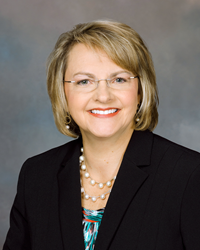 (PRWEB) December 16, 2015
Cherry Bekaert Wealth Management LLC, a subdivision of nationally recognized accounting firm Cherry Bekaert LLP ("the Firm"), is pleased to welcome Christine M. Slate as its new Chief Compliance Officer.
In this role, Slate will be primarily responsible for Cherry Bekaert's overall compliance efforts. Her duties will include serving as the key liaison with regulatory agencies and third-party service providers including legal counsel, broker-dealers and custodians. Additionally, she will safeguard proper due diligence on Firm vendors, secure licensing for the Firm and its employees, manage insurance policy and bond needs, and coordinate all legal and corporate governance matters.
"Christine will leverage her expertise in customer service and operations management, compliance, training and administration to ensure our Firm complies with all regulatory requirements and maintains a sound compliance infrastructure," said Wesley H. Watkins, National Leader and President of Cherry Bekaert Wealth Management Services.
Slate possesses over 25 years of financial services and registered investment advisory field experience. She is also Series 65 registered as an Investment Advisory Agent, and holds the Registered Paraplanner designation from the College of Financial Planning.
Among her professional affiliations, Slate is the former president of the Richmond Chapter of Executive Women International (EWI) and chaired the 2012 EWI Spring Conference. She has also worked closely with the National Society of Compliance Professionals as a speaker on numerous panels at regional and national meetings. Within the community, Slate is known for her work with local churches. She is a board member of Powhatan Community Church and Needle's Eye Ministries, Inc., and a recipient of the "Heart & Hands Award" in recognition of her service to Women's Ministry.
Slate received a Bachelor of Business Administration degree at Averett University, and is vice chair of the Virginia College Fund Board of Directors.
About Cherry Bekaert Wealth Management
Cherry Bekaert Wealth Management brings together years of hands-on, wealth management leadership experience and objectivity. Our mission is to help families clearly define their goals and to design a long-range plan that maximizes the probability of achieving all that is important to them.
We define wealth management as a structured and thoughtful process that provides family- specific investment solutions, advanced planning and relationship management. Our advice is not limited to investments; we can assist families with wealth enhancement, wealth transfer, wealth protection and charitable planning. We lead families through a complex process to help them identify and understand their needs and related investment strategies. The comprehensive nature of this process increases the likelihood of achieving the family's goals. | cbhwealth.com
About Cherry Bekaert LLP
Ranked among the largest accounting firms in the country, Cherry Bekaert specializes in offering solutions that impact their middle market clients' ability to innovate, grow and succeed.
For more than 65 years, private equity-backed businesses, global corporations, middle market companies, emerging firms and their executives have relied on Cherry Bekaert to guide them forward as their growth advisor. | cbh.com