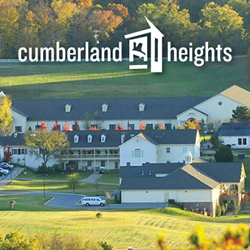 Addiction treatment is making strides, and we are excited about the opportunities within the MAP Recovery Network, commented Jay Crosson, Cumberland Heights CEO.
Nashville, TN (PRWEB) December 17, 2015
MAP Health Management, the administrator of The MAP Recovery Network announced today that Cumberland Heights has joined the Premier Outcomes-Driven Provider Network, to help improve its clients' long-term recovery from addiction. By joining the MAP Network, Cumberland Heights will more effectively navigate the changing reimbursement model in the field of behavioral health. The MAP Network is the preeminent standardized, outcomes-driven alliance comprised of addiction treatment providers dedicated to delivering quality addiction treatment, utilizing resources to track and apply outcomes data, improve services and demonstrate the efficacy of addiction treatment programs. Along with more than 50 quality addiction treatment facilities who make up the MAP Network, Cumberland Heights will differentiate itself to behavioral healthcare consumers using data and treatment success rates.
"As experts in addiction treatment for 50 years, we've seen the industry grow and change over time," said Jay Crosson, Cumberland Heights CEO. "Addiction treatment is making strides, and we are excited about the opportunities within the MAP Recovery Network. We are committed to seeing each of our patients through to their personal, long-term recovery."
MAP's mission is to improve treatment outcomes for people struggling with drug and alcohol addiction. The company offers a variety of services including its renowned long-term Recovery Support Services program in order to help patients transition from treatment and maintain recovery. Future plans include expanding the MAP Network beyond the field of behavioral health. "With their commitment to long-term recovery, Cumberland Heights is a valuable addition to the MAP Recovery Network", stated Jacob Levenson, CEO of MAP Health Management. "By using quantifiable measures to demonstrate patient outcomes, this quality alliance of addiction treatment providers will differentiate themselves in the field of chemical dependency to patients seeking treatment as well as their health insurance companies. The provision of addiction treatment is rapidly evolving."
With its 12 Step based treatment model, Cumberland Heights embraces the entire continuum of care which includes comprehensive aftercare. Membership in the MAP Recovery Network gives Cumberland Heights another opportunity to help patients sustain long-term recovery from drug and/or alcohol addiction.
About Cumberland Heights
For 50 years, Cumberland Heights has offered residential and non-residential treatment programs for people ages 14 and over suffering from alcohol or drug addiction. Their expert addiction professionals provide abstinence-based treatment plans, grounded in the 12 Steps of recovery, which incorporate spiritual, adventure-based and expressive therapies. Cumberland Heights' 177 acre main campus is located on the banks of the Cumberland River in Nashville, Tennessee. Their eight intensive outpatient offices are located throughout Middle and East Tennessee. Further information on Cumberland Heights may be found at http://www.cumberlandheights.org.
Cumberland Heights
8283 River Road Pike
Nashville, TN 37209
Admissions: 800-646-9998
About MAP Health Management, LLC
MAP Health Management is the industry leader in providing comprehensive outcome data, recovery support programs and revenue cycle management to addiction treatment providers across the country. The MAP Recovery Network, The Premier Outcomes-Driven Provider Network, is comprised of quality addiction treatment providers committed to measuring outcome data and differentiate themselves to behavior healthcare consumers and health insurance payers by demonstrating treatment success rates. Nationally recognized treatment facilities trust MAP to help them navigate and thrive in the new healthcare paradigm by utilizing the latest data-driven technologies, including telemedicine. MAP's dedicated team of research analysts, clinical directors, recovery advocates, technology professionals and billing experts work to improve patient outcomes, empower treatment providers with data, reduce costs and drive facility revenue.
For more information, see http://www.ThisisMAP.com and http://www.MAPNetwork.com.