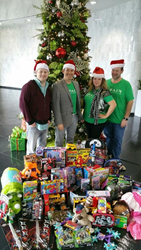 "As a father myself, the plight of children with cancer weighs heavily on my heart, and we're pleased to support Z Krewe's worthy and important cause to bring a little bit of joy to these young, brave fighters." -- Roger Janik, CEO, Fair Marketing
Galveston, Texas (PRWEB) December 17, 2015
Fair Marketing's CEO Roger Janik and his staff loaded up several shopping carts with toys. Then, the Fair Marketing team helped Z Krewe, a Galveston Mardi Gras crew, load up its car. Z Krewe was responsible for taking the toys to the Rainbow Connection, a University of Texas Medical Branch non-profit organization that would in turn give them to some of Galveston's sickest kids.
The Rainbow Connection is an organization that supports UTMB patients suffering from pediatric cancer and blood disorders, as well as their siblings and parents. Every Christmas, the Rainbow Connection launches a Christmas party at Moody Gardens in Galveston, where sick children, along with their brothers and sisters, are allowed to redeem gift tickets for toys of their choice at Santa's Shop.
The Rainbow Connection is staffed solely by volunteers and works closely with Z Krewe, among many other benevolent individuals and organizations. Z Krewe's spokeswoman, Barbara Rodgers also happens to be the woman who helped found the Rainbow Connections in the 1980s. Rodgers is a retired pediatric oncology nurse and research coordinator at UTMB. She has seen firsthand how the struggle with childhood cancer can devastate the lives of kids and their families.
"We were absolutely speechless at the generosity of Fair Marketing and all our other supporters. Z Krewe alone collected about 200 presents, thanks also in part to the generous donations of Krewe members," Rodgers said. "There are so many sick children in our community that need help. These families are under a lot of stress, particularly financially. Just to be able to help them through this very hard time, especially at Christmas, to bring a little bit of normalcy to an otherwise traumatic setting, means so much."
Fair Marketing's CEO had warm feelings about his company's participation in the toy drive.
"Fair Marketing is grateful to be in a position to give back to the communities that have helped make our business successful," said Janik. "As a father myself, the plight of children with cancer weighs heavily on my heart, and we're pleased to support Z Krewe's worthy and important cause to bring a little bit of joy to these young, brave fighters."
Some children were unable to attend Sunday's party because they were hospitalized at the time, but presents were provided to them at the hospital.
The Rainbow Connection funds programs for sick children year-round, including an annual summer camp for kids with cancer and their siblings. More information about the organization is available at http://www.facebook.com/rccamp/.
About Fair Marketing
Fair Marketing is a boutique marketing communications firm that specializes in search engine optimization (SEO), content and social media marketing, pay-per-click (PPC) advertising and online reputation management.
For more than a decade, the Fair Marketing team has helped small-to-enterprise level businesses establish and cultivate online success through patented formula-based marketing solutions. In recent years, the company has garnered recognition from local publications, industry ranking services, consumer review sites and The Better Business Bureau. Fair Marketing is also consistently named among the top five web marketing firms in the US.
More information is available by contacting:
Roger Janik, CEO, Fair Marketing
713-300-0037
http://www.fairmarketing.com