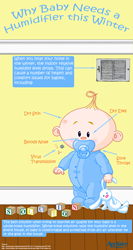 The delicate skin and young immune systems of babies means they are especially prone to problems from dry air.
Madison, WI (PRWEB) December 18, 2015
Being a new parent comes with a bundle of joy – but also some new anxieties. Keeping a baby comfortable and healthy is a daily goal of new parents and it can be especially challenging in the winter. Harsher climates and circulating viruses mean your bundle of joy needs to be bundled up and protected every time you go outside. According to Babble Blog, there are some essentials every parent needs in the diaper bag before heading out this winter:
1. Sunscreen: Even those usually conscious about UV damage can underestimate the burning power of the winter sun. Young babies should be as protected in the winter with sun block as they would in the summer.
2. Moisturizer: Cold, dry air can cause skin to become itchy, cracked and painful and this is especially true of the delicate skin on babies.
3. Lots of layers: Parents don't want their little ones getting a chill. But overheating or becoming sweaty in cold weather is also dangerous. By dressing a baby in layers, quick adjustments of coverage for the right temperature are easy.
Protection from Indoor Climate Conditions
While protection from the elements is essential in winter, babies are also at risk of health and comfort issues in the home. Those risks include dry skin, irritated eyes and nose and even an increased chance of contracting a cold or the flu. During cold months, indoor relative humidity plummets as the house is heated, so parents need some special items to protect baby inside:
1. Hand sanitizer: Moms and dads should keep sanitizer with them during the winter months even indoors. If baby needs attention while a parent is in the middle of cleaning or cooking, some quick sanitation can prevent the spread of germs.
2. Skin care: Avoid baths that are too warm, harsh soaps and overly fragrant moisturizers. All three can quickly dry out a baby's delicate skin.
3. Humidify the house: Whole-house humidification can help protect babies no matter what room they are in by delivering moisture to the air. This prevents problems with dry skin and may even reduce the infectivity of the flu virus, according to PLOS Journal.
Benefits of a humidifier for baby
A humidifier for baby adds moisture to the air by creating water vapor. Installed as part of the HVAC system, whole-home solutions from Aprilaire are out of sight and out of mind. Unlike portable humidifiers, whole-home units only need annual maintenance, there is no risk of burns to babies from warm mist or steam and they are virtually silent. For protecting against dry skin, colds, sore throats and coughs; a whole-home humidifier is the right solution for many parents.
About Us:
We have been a brand leader in IAQ for more than 60 years, delivering a wide range of whole-home systems that improve comfort, health and energy efficiency. Our brand products are sold through and installed by HVAC contractors across the United States and Canada. Visit Aprilaire.com to learn more about whole-house humidifiers and total comfort solutions to purity, humidity, freshness and temperature. Find us on Facebook at facebook.com/Aprilaire.