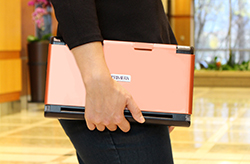 Plymouth, Minnesota (PRWEB) December 17, 2015
With just days left in the holiday season, specialty printer manufacturer Primera Technology, Inc. today announced a last-minute gift any Primera Trio user will appreciate: a limited edition cover, in elegant rose gold, perfect for adding sophistication to the world's smallest, lightest portable all-in-one printer.
"Our limited edition rose gold cover is unlike any color we've ever offered. And it's here just for the holiday season—but only a limited supply is available, so gift-givers shouldn't wait." said Jennifer Loegering, Product Manager.
Primera Trio prints, copies and scans in full color - from a unit that weighs just 2.6 lbs. (1.2 kg). The printer, about the size of a hardcover book, fits easily into computer bags, backpacks and briefcases, and has set a new benchmark in the portable printer market.
The Primera Trio rose gold cover is truly unique. Unlike typical gold, the limited edition cover features a lustrous blush shade that turns any Primera Trio into an eye-catching fashion accessory. The cover snaps on and off like a smartphone case, allowing users to change the look of their Primera Trio any time they wish.
Pricing and Availability
The limited edition - Primera Trio rose gold cover is priced $29.95 (MSRP) and is available exclusively at Primera Trio Store. The Primera Trio all-in-one printer is sold separately and ships standard with a black cover. It is also available at http://www.primeratrio.com for USA orders. For orders from Canada or Latin America, call 1-855-797-2332. Prices vary in regions outside of the USA. Follow Primera Trio on Facebook at http://www.facebook.com/PrimeraTrio.
About Primera
Headquartered in Plymouth, Minnesota, Primera is one of the world's leading specialty printer manufacturers. Its products are sold worldwide in more than 200 countries through Primera's Authorized Resellers and Distributors. More information about Primera and its full line of products is available at http://www.primera.com or by calling 1-800-797-2772 (USA and Canada). Outside the USA and Canada, call (763) 475-6676 or FAX (763) 475-6677. E-mail to sales(at)primeralabel(dot)com.
For Europe, Scandinavia, Middle East and Africa, contact Primera Europe GmbH in Germany by phone at +49-(0) 611-92777-0, by FAX at +49-(0) 611-92777-50, online at http://www.primeratrio.eu/ or by e-mail at sales(at)primera(dot)eu.
For Asia Pacific, contact Primera Asia Pacific in Australia by phone at +61 3 8586 3030, online at http://www.store.primera.com.au or by email at sales(at)primera-ap(dot)com.
Notes to Editors: Primera and Primera Trio are registered trademarks of Primera Technology, Inc. All other trademarks are the property of their respective companies. Patents pending. Specifications subject to change.