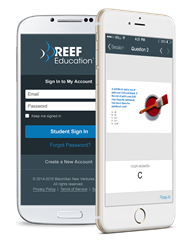 We're excited to assist millions of Android users across campuses with their course needs through a native app
New York, NY (PRWEB) December 18, 2015
REEF Polling enhances teaching and learning in the classroom by allowing instructors to present with any content or tools they already use, pose questions, and empower students to participate with mobile devices.
The free Android app, available now through Google Play, allows students to not only respond to polling questions with any device, but provides the ability to receive correct and incorrect answers and review session history as a study guide outside of class.
Also available as an iPhone app and Web app, REEF Polling is currently in use at over 500 institutions, by over 2,000 instructors, and 10,000 students since its release in the fall of 2015. The quick spike in adoption is attributed to product development being inspired by client feedback and beta testing. i>clicker, the long time leader in the student response market, has applied industry knowledge to its mobile-optimized engagement system, focusing on keeping students' attention on course content, not the technology.
"There's no denying the Apple iPhone is king of smartphones, but mobile growth can largely be attributed to the rapid adoption of Android devices," remarks i>clicker's Director of Marketing James McNamee. "We're excited to assist millions of Android users across campuses with their course needs through a native app."
The REEF Polling apps are focused on providing a superior mobile experience and the account set up is easy. Instructors download complimentary software, create an account, add their course, and can begin sessions when ready. Images and questions can be sent to student devices, and data can be synced or imported into learning management systems (LMS). Students download the app or sign up online, search for their institution, and choose their course to begin participating in class.
i>clicker works directly with higher education institutions to ensure its mobile solutions for the classroom meet the needs of all instructors and students.
Instructors can download the software
Students can download the app
For more information on REEF Polling, or to request a demo, please visit: http://reef-education.com or email contact(at)iclicker(dot)com
About i>clicker:
i>clicker was built by educators for educators with the goal of keeping students focused on content, not technology. i>clicker is the most widely used student response system in North American higher education, adopted at more than 1,100 institutions and used by more than three million students.
i>clicker's student response system continues to be recognized for its superior reliability, intuitive software, and focus on formative assessment and pedagogy. Today, i>clicker is powered by flexibility giving professors the choice to standardize with one remote, or take a blended approach of mixed mobile and conventional remotes in their classrooms.