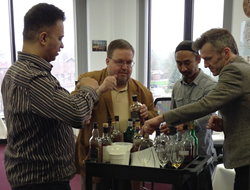 We applaud your ruthless, objective testing methodology. Tastings sets the standard for others to follow. - Maker's Mark
Chicago, IL (PRWEB) December 17, 2015
For 23 years, the International Review of Spirits Competition is the most authoritative, most consistent, and most influential annual spirits review in the United States. Unlike other "weekender" spirits events, this blind-tasting-based spirits competition was the first comprehensive spirits judging ever held in the United States. Throughout the year, Tastings.com invites select members of the trade to join them as panelists in these monthly tastings of specific categories of spirits. Whisky, Rum, Bourbon, Vodka and Liqueurs are just a few of the featured categories. Unique specialties like Cocktail Bitters, Mixers, and Baijiu are also exciting monthly review features. Brands may enter by visiting the registration site: Trade.Tastings.com
Tastings.com conducts the most objective, consistent, and widely respected spirits reviews in America. Both trade and consumers use reviews on Tastings.com and elsewhere when making their spirits buying decisions. Retailers and distributors across the US closely watch our reviews when looking for products to carry and scores to promote. Here are some examples of the major industry praise the competition has received.
Tastings.com rates products in the International Review of Spirits on a 100-point scale and provides consumer-oriented tasting notes for Point-of-Sale materials. Every recommended entry includes: a three-year published product review page on Tastings.comthe internet's most used spirits review site, an award certificate, social media engagement, and optional Tastings-branded POS material. Plus, a chance to win Distillery of the Year or Spirit of the Year awards.
All spirits producers, importers, distributors or marketers are now invited to enter their products. January 1st is our deadline for Vodka. February 1st for Gin. March 1st for Rum. For a full listing of the 2016 calendar visit: Trade.Tastings.com or call 773-930-4080.