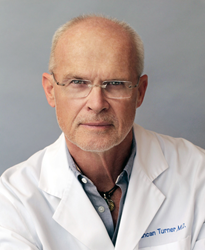 MonaLisa Touch® is an innovative way for doctors to help relieve the discomfort that many women suffer from each day due to vaginal atrophy.
Santa Barbara, California (PRWEB) December 17, 2015
For many women, vaginal atrophy is a difficult subject to discuss. Incontinence, dryness, and other problems attributable to hormone imbalances or the aftereffects of childbirth can cause discomfort—and even pain—in an extremely sensitive area. Since October 2015, Dr. Duncan Turner of Turner Medical Arts has been offering MonaLisa Touch®, a treatment designed to quickly and efficiently address these problems and bring about vaginal rejuvenation, to Santa Barbara-area women.
The Italian-developed fractional laser is now approved by the U.S. FDA to stimulate new collagen production in vaginal tissues for vaginal rejuvenation. This reactivation of the beneficial protein serves to improve vaginal health and reduce or eliminate symptoms of what's known as atrophic vaginitis, including dryness, itching, and burning sensations that some women believe are unavoidable after childbirth or menopause. The problem of atrophic vaginitis can also lead to increased sensitivity, which may result in pain felt during intercourse. The condition is far from irreversible, however, as vaginal rejuvenation thanks to new collagen production can rehydrate and nourish vaginal mucosa tissues that have thinned.
MonaLisa Touch® is unique as a vaginal rejuvenation technique in that it requires no surgery or pharmaceuticals to bring about necessary changes. The fractional CO2 laser stimulates change by creating numerous micro-lesions in the vaginal tissues it targets, kickstarting the formation of new collagen. Its manufacturer reports that many women will notice a difference shortly after their first treatment, but the collagen-building process will continue for weeks, during which vaginal tissues will become increasingly thicker, toned, and elastic.
Another benefit of MonaLisa Touch® is the reestablishment of a proper pH balance, which helps in preventing infection.
A single vaginal rejuvenation session should last about 10 minutes, though ideal results may require three MonaLisa Touch® treatments spread out over a series of months. Patients do not have to take any down time or recuperation after their session, and can return to their daily life and schedule the same day.
MonaLisa Touch® is only available to patients visiting an accredited practice, such as Turner Medical Arts in Santa Barbara. This ensures that women seeking help for their atrophic vaginitis find it from a trained medical professional with a woman-specific focus and an eye for positive, reliable results.
Dr. Duncan Turner recommends that women suffering from vaginal atrophy receive vaginal rejuvenation once a year or every other year. He particularly encourages women suffering from this condition to not feel as though they have to remain silent about it due to its intimate nature.
To learn more about MonaLisa Touch® and vaginal rejuvenation at Santa Barbara's Turner Medical Arts, call 805-962-1957 or visit turnermedicalarts.com.