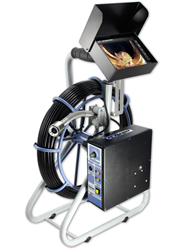 (PRWEB) December 16, 2015
Medit's premium line of drain inspection tools has recently been enhanced with the new top notch high end camera Gecko 3000-S. This German designed and made device boasts a number of features that make it the best value on the market. These features include Kevlar coating of its 35 meter (115 ft.) ultra-flexible push cable, 2.4mm (1'') with a ¼" high resolution Sony CCD chip with 87 degree field of view, glass lens with NANO coating, digital video recorder with remote control, and an on-screen footage counter, to name just a few. The push cable is stored on a metal reel, which is equipped with a trouble-free 6 pole slip ring.
The unit can be ordered with an optional 33 kHz beacon, which permits to locate the camera head with precision during the inspection (a location wand needs to be purchased separately). A durable metal (aluminum) skid serves to protect the camera head from physical damage, while a 5.6" color LCD monitor is equipped with a metal case and a sun shield.
One of the innovative features of the new inspection device is its user friendly lighting. Ten of the LED lights at the camera head are bright and direct. They work best for inspections at a distance. Five other SMD LEDs provide more dispersed illumination for close up inspections to avoid excessive glare.
Gecko 3000-S is ideal for inspection of drain pipelines (including those with T-traps and 90 degree bends) and small channels due to its versatility, compact size and reliability. Unlike many competing units, it is equally suitable for both residential and industrial applications. In spite of its compact size and very affordable price, the camera has some of the features hard to find even in much bulkier and far more expensive devices.
It should be mentioned that Gecko 3000-S comes with an extended 3 year manufacturer's warranty. These useful features make Gecko 3000-S one of the best inspection tools in its price and size group.