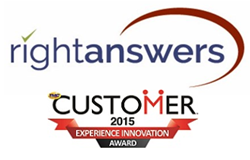 RightAnswers' Enterprise Knowledge Hub is designed to enhance the customer experience through widespread knowledge usage and engagement.
Edison, NJ (PRWEB) December 17, 2015
RightAnswers, Inc., the #1 provider of cloud-based software for knowledge management, web and mobile self-service and social knowledge, announced today that TMC, a global, integrated media company, has named the RightAnswers Enterprise Knowledge Hub a winner of the 2015 Customer Experience Innovation Award presented by TMC's CUSTOMER magazine.
The 2015 Customer Experience Innovation Award recognizes best-in-class companies setting the standard in delivering exceptional customer experiences.
"We are proud to have won the 2015 Customer Experience Innovation Award for our Enterprise Knowledge Hub, which is specifically aimed at enhancing the customer experience through widespread knowledge usage and engagement," said Jeff Weinstein, President and CEO, RightAnswers.
The RightAnswers Enterprise Knowledge Hub is a central repository of support knowledge that is accessible by every member of the organization and where they can contribute and retrieve knowledge. The Enterprise Knowledge Hub enhances internal collaboration to provide a richer knowledge base and better experience for the customer.
The Enterprise Knowledge Hub provides a holistic view of knowledge at your organization and enhances communication, cooperation, productivity and employee satisfaction. When you extend RightAnswers throughout your organization, it makes your entire organization smarter and more effective. As more people and departments, including Customer Service, HR, Legal, Procurement, Product Management, etc., contribute to the Enterprise Knowledge Hub, the more complete and up-to-date your knowledge base becomes – enabling the organization to provide better customer service.
Recent innovations in RightAnswers software that enhance the customer experience include:

Gamification that increases engagement with the knowledge, keeping it fresh
Automated knowledge quality tool that monitors knowledge creation in real-time to ensure its effectiveness
Online help that delivers instant answers to the customers in the context of what they are doing in your app or website.
"Congratulations to RightAnswers for receiving a 2015 Customer Experience Innovation Award. RightAnswers has been selected for enhancing the customer experience and improving business relationships," said Rich Tehrani, CEO, TMC. "We're pleased to recognize this achievement."
About RightAnswers
RightAnswers is the #1 provider of cloud-based knowledge management, web and mobile self-service and social knowledge solutions for improving customer service, IT support and enterprise-wide collaboration. Our flagship product, the Enterprise Knowledge Hub, promotes knowledge-sharing across your organization, increasing employee engagement and your overall productivity and efficiency. Our 450+ clients around the globe use RightAnswers seamlessly integrated with their CRM, ITSM or other enterprise software to provide outstanding customer experiences while saving millions of dollars a year. Learn more at http://www.rightanswers.com.
About CUSTOMER
Since 1982, CUSTOMER magazine (formerly Customer Interaction Solutions) has been the voice of the call/contact center, CRM and teleservices industries. CUSTOMER has helped the industry germinate, grow, mature and prosper, and has served as the leading publication in helping these industries that have had such a positive impact on the world economy to continue to thrive. Through a combination of outstanding and cutting-edge original editorial, industry voices, in-depth lab reviews and the recognition of the innovative leaders in management and technology through our highly valued awards, CUSTOMER strives to continue to be the publication that holds the quality bar high for the industry. Please visit http://www.customer.tmcnet.com.
About TMC
Global buyers rely on TMC's content-driven marketplaces to make purchase decisions and navigate markets. This presents branding, thought leadership and lead generation opportunities for vendors/sellers.
TMC's Marketplaces:

Unique, turnkey Online Communities boost search results, establish market validation, elevate brands and thought leadership, while minimizing ad-blocking.
Custom Lead Programs uncover sales opportunities and build databases.
In-Person and Online Events boost brands, enhance thought leadership and generate leads.
Publications, Display Advertising and Newsletters bolster brand reputations.
Custom Content provides expertly ghost-crafted blogs, press releases, articles and marketing collateral to help with SEO, branding, and overall marketing efforts.
Comprehensive Event and Road Show Management Services help companies meet potential clients and generate leads face-to-face.
For more information about TMC and to learn how we can help you reach your marketing goals, please visit http://www.tmcnet.com.