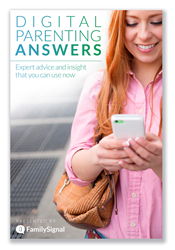 Washington, D.C. (PRWEB) December 17, 2015
Kirk Smalley, of Perkins, Oklahoma, is president of Stand for the Silent, an anti-bullying organization that has reached more than 1 million children through talks at schools across the United States. Smalley retells the devastating story of the day his 11-year-old son, Ty, took his life in 2010 after years of being bullied. Since then, telling children they can make a difference has been his full-time job.
"We don't really grasp the concept of how kids rely on communication through social media," said Smalley, whose comments appear in FamilySignal's new e-book, which includes important, wide-ranging tips and resources for parents in the digital age. "A lot of parents, they find out their kids are getting cyberbullied and their answer to the problem is, well, we'll just delete your account. You just won't have Facebook and Twitter, and that solves the problem. You know what? It doesn't. The cyberbullies are still making those posts ... and now the kid can't even see what's being said about him."
FamilySignal, a comprehensive family locator app for iPhone, released its "Digital Parenting Answers" e-book on the company's blog as a free download. It covers a range of critical topics for parents grappling with how teens and tweens use technology to interact with the real world, including:

What are teenagers Googling that parents should know about? A landmark study this year showed that 84 percent of youths were asking serious health questions online about drugs, weight loss, STDs and more.
Is there a way for children to hide inappropriate media on an iPhone? The e-book names 12 common "photo vault" apps that look like a simple utility, such as a calculator, but in fact conceal secret photo and video libraries.
How does a parent's own cellphone use impact ground rules for children? An expert on family communication told FamilySignal, "Children aren't going to make the distinction between what's OK for them and what's OK for their parents."
"Our primary business is improving family communication through our iPhone family locator app," said FamilySignal president Peter J. Goodman. "But good family communication is about much more than that. We knew it was important to build a free resource to answer questions that every parent asks themselves about how children use cellphones."
"Digital Parenting Answers" also includes a guide to iPhone parental controls, a glossary of common Internet acronyms, the latest research on how teens and tweens use screen media, and expert insight on cellphones in the classroom, bullying and the impact on media use on physical health. Download the e-book on the FamilySignal blog.
Interviews are available with FamilySignal President Peter J. Goodman.
CONTACT
J.R. Williams, FamilySignal Director of Marketing Communications, jrw(at)familysignal.com, (205) 602-2229
ABOUT FAMILYSIGNAL
FamilySignal is a comprehensive family locator for iPhone that brings new context to the real-time locations of family members. FamilySignal is the first compatible with optional beacons — small add-on devices that provide hyperaccurate location data — for location alerts. That means users can tell when their teenager is in their car and a level of precision not possible with typical GPS-based alerts. FamilySignal also includes features like On My Way for a real-time ETA, Touch Base for location-based check-ins and a panic button for emergencies, giving a sense of security and peace of mind for parents. To learn more, visit http://www.familysignal.com.
###