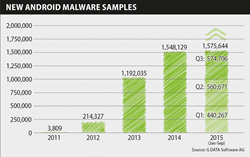 Atlanta, GA (PRWEB) December 17, 2015
Today, global security firm, G DATA, released its Q3 2015 Mobile Malware report which found that of the more than two-thirds of people worldwide who use Android's operating system, over 80 percent of them are using an outdated version. This is particularly worrisome, as researchers also discovered 6,400 new instances of malware targeting Android devices every day in Q3.
"In researching new malware hitting Android devices each quarter, our researchers found that a huge amount of people haven't been using the updated version of the operating system," said Andy Hayter, security evangelist, G DATA. "There are a number of reasons for this, but this opens up a huge attack surface of users with holes and vulnerabilities in their operating system, just waiting to be hit. With the continued growth in malware instances that the researchers also found, this is certainly a cause for concern and something consumers should really take seriously."
These findings are the result of a survey conducted in October 2015 among users of G DATA security solutions for Android devices (therefore does not include the new Android 6 Marshmallow OS). Common reasons for the outdated OS version usage are the long delays in receiving updates from the phone vendors and mobile service providers, as well as the availability of OS updates for older devices.
The report also looks at malware samples over the quarter, and by the end of Q3 2015, G DATA analysts had already counted more Android malware instances (1,575,644) so far in 2015 than in the whole of 2014 (1,548,129). In the third quarter alone, 574,706 different malware strains were found which is an increase of 50 percent compared to the same period last year.
Further forecasts
■ Android as a gateway for the Internet of Things: From fitness apps to vehicles, more and more devices are being networked together and can be linked to a smartphone or tablet. Such applications and the Android operating system are becoming more and more popular among cyber criminals, as they can offer a route for attack.
■ More smartphones with pre-installed malware: More and more smartphones and tablets come pre-loaded with manipulated firmware. New research results in this area are expected in the coming months.
■ Complex malware for online banking fraud: G DATA security experts expect to see an increase in complex malware that combines Windows and Android attack campaigns on online banking customers. The criminals' aim is to manipulate banking transactions on the Internet.
The G DATA Mobile Malware Report is available online at https://secure.gd/dl-en-mmwr201503
About G DATA
IT security was invented in Germany: G DATA Software AG is the antivirus pioneer. It was more than 28 years ago that the company, founded in Bochum in 1985, developed the first program to combat computer viruses. These days, G DATA is one of the world's leading providers of IT security solutions.
Test results prove that IT security "Made in Germany" offers Internet users the best possible protection. Stiftung Warentest has been testing Internet security products since 2005. In all seven tests performed between 2005 and 2014, G DATA achieved the best virus detection rate. In comparative tests by AV-TEST, G DATA regularly demonstrates the best results in the detection of computer malware. Internationally, G DATA INTERNET SECURITY has also been awarded best Internet security package by independent consumer magazines – in countries such as Australia, Austria, Belgium, France, Italy, the Netherlands, Spain and the USA.
The product range comprises security solutions for end customers as well as medium to large-sized enterprises. G DATA security solutions are available in more than 90 countries worldwide.
For more information about the company and G DATA security solutions, see http://www.gdata-software.com.